Renishaw Ranks High In Graduate Jobs Poll
Renishaw was ranked in the top 3 best UK companies for engineering and manufacturing graduates to work for at an awards ceremony held recently in London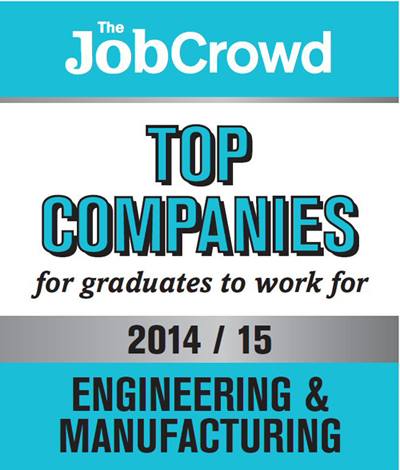 Ranking higher than many household names in both the private and public sector, Renishaw was also named in the overall top 50 companies for graduates in the annual list produced by The JobCrowd.

The listings are the only results voted for by graduates themselves, and Peter Bowler, Group Human Resources Manager at Renishaw, said he was "very pleased" by the result. He added: "Renishaw takes its graduate recruitment programme very seriously and we are delighted that we have received this recommendation in this survey of the top 100 companies for graduates to work for."

This is the first year Renishaw has entered the rankings, making the company's immediate appearance in the top 50 even more impressive.

George Gibbons, a Sales Development Executive who recently completed the Renishaw graduate scheme, says, "The Renishaw grad scheme not only offers you challenging and enjoyable projects, but also provides a solid structure of support when you need advice or support. Graduates are tasked with 'real life' projects and are given a lot of freedom to go about completing them."

He added, "There are a number of factors which help the Renishaw graduate scheme stand out. The extensive training available to the graduates ensures you can increase your technical knowledge and your understanding of the whole range of products and solutions Renishaw offers. The projects given to the graduates are challenging and enable you to build links with the various product divisions or even subsidiaries. And finally the ability to rotate placements during the scheme gives you visibility into other areas of the company.

A company record of 68 graduates are being recruited in 2014, with over 100 summer, industrial and pre-university placements also being taken on throughout the Group.

The JobCrowd correlates anonymous reviews of jobs from graduates in order to create the annual list, and has been described as "Trip Advisor for jobs".

The awards evening, held on 16th June, was hosted by comedian Alex Horne at the Intercontinental Hotel in London in front of over 200 representatives from the 100 companies ranked.