New Package Of Integrated Solutions From Altro
Altro have launched a new package of products designed to offer a holistic approach to interior design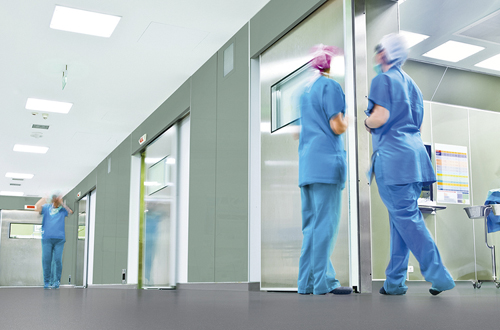 Altro Whiterock SatinsIt includes safety flooring and hygienic wall cladding, with colour palettes designed to complement, mix and match.

Altro Whiterock hygienic PVCu wall cladding systems are durable, grout-free, water-tight and hygienic coverings for internal walls. They are designed for environments that need to meet tough hygiene standards and are extremely impact resistant. Whilst showers and kitchens really benefit from these watertight, wipe-clean surfaces, their appeal is much broader and makes them a popular choice for wall coverings in many applications.

Available in satin or gloss, you can use them to help you maintain hygiene in a hospital ward; make a bold statement in a reception area; or protect your school wall from close encounters of the hand, shoe and bag kind. They are ideal either on their own or as part of an integrated system featuring Altro flooring, doorsets and ceilings.

Altro Whiterock Satins™ hygienic wall cladding is a durable, grout-free, water-tight wall cladding. It provides a stain-free, wipe clean surface that meets strict hygiene standards. It is extremely impact resistant and ideal for tough areas. It now has 26 matt colours for design interiors from brights for impact to neutrals for cool sophistication. The colours work well on their own or can co-ordinate with other colours or patterned walls.

Altro Whiterock Chameleon™ hygienic wall cladding makes a bold and confident design statement, adding striking visual impact to customer-facing interiors where high-design first impressions count. With an expanded range of 16 vibrant solid colours or more natural tones in a high gloss finish, it creates a variety of effects, using it either as a focus feature or as an accent to an existing design scheme. Altro Whiterock Chameleon offers all the performance benefits of Altro Whiterock and fits in perfectly to any interior design plan.

Both ranges are ideal for a variety of environments including healthcare, reception areas, corridors, education, bathrooms, supermarkets and retail.

These versatile wall cladding ranges are complemented by Altro Wood Safety™, a true wood-look, sparkle-free safety flooring. It has a palette of 16 classic, contemporary and on-trend designs, which are ideal in locations where first impressions count and you can't afford to compromise on safety.