UK Company Awarded Major Order By Pakistan Navy
Norfolk based Delta Fire are pleased to announce that they have secured a major order to supply 20 x RamFan WF20 Smoke Removal Fans to the Pakistan Navy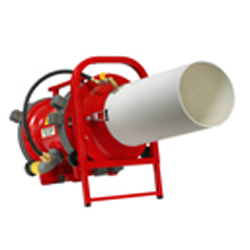 WF20 Smoke Removal Fan with MisterDelta Fire have been supplying the Royal Navy and other International fleets with these water – driven fans for over 10 years which have become standard issue due to their proven track record of safety and efficiency. The US Navy has the largest fleet in the world and also use the WF20's which further testifies to their proficiency and performance.

The Pakistan contract was won against stiff European competition and further strengthens Delta's growing stature in overseas markets thanks to the quality and reputation of their products and service. Recent months have seen major successes by Delta's export team breaking into new markets such as China and Libya.

Delta Fire has a solid foundation in UK Manufacturing with the vast majority of their current range designed, engineered and produced in-house but also operate as sole UK agents for the RamFan range of smoke removal fans manufactured by Euramco Safety Worldwide. This alliance has allowed Delta to work alongside a company widely regarded as a market leader in this field and strengthened Delta's reputation as a 'Single Source Supplier'.

No portable ventilator in the world compares to the smoke removal rate of the WF20 when connected to 8" or 12"ducting. Warships at general quarters require powerful suction to remove smoke from interior spaces. The WF20 achieves this via long lengths of ducting to the outside air. This unit utilizes the water pressure from a fire hose and a patented turbine coupled to a highly efficient fan blade to generate high velocity, high pressure airflows. The modular construction, choice of corrosion-resistant materials and simplicity assures infrequent and simple maintenance.

Exhaustive testing during US Navy evaluations left the WF20 as the uncontested champion of on-board smoke removal. This intrinsically safe water driven, non-electrical, fan can be further enhanced by the addition of a PPV Multiplier / Water Mist attachment. This simply clips to the front of the unit and injects up to 3.5 gallons of water into the airstream producing a cooling mist allowing for fast cooling of personnel, equipment and designated areas.

Delta Fire are confident that their sales in the RamFan range are set to grow in the years to come with increased interest from other International Navies and Marine Sectors.

Delta will be exhibiting the WF20 Fan along with their Professional Range of Fire Nozzles and Foam Equipment at this year's Naval Damage Control Conference in Portsmouth on 7th, 8th & 9th October.