New Air Movement Specialist Website Offers Significant Advantages
Air movement specialist, Air Control Industries, has launched a new web site. It is faster and easier to navigate whilst also offering more resources to site visitors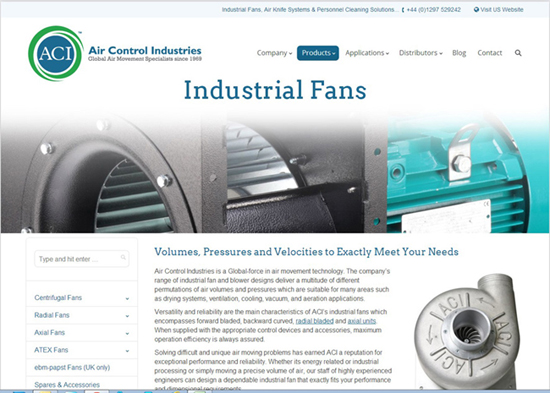 The website gives a clearer insight into what the company offers – products and services – backed up by an extensive library of application videos demonstrating products in use.

All ACI's products feature – Fans, Blowers, DRI-Line bottle and can drying systems, Air Knives and its JetBlack personnel de-dusting units – with easily downloadable literature, data and drawings in various formats supporting on-line data.

To promote further site development and enhancement visitors are encouraged to provide feedback via social media. This facility also permits visitors to ask questions and receive responses.

All these attributes are included in both UK/Rest of the World and USA versions of this new format website and both were launched simultaneously.

Future developments include an on-line shop which will again enhance the site visitor experience.