Pacepacker Designs Unique Mobile Robot Solution For Chip Shop Potato Supplier
An economical and fully mobile Blu-Robot palletising system has provided Belmont Farms with a 'Plug-and-Play' robotic solution to handle up to 1,000 tonnes of potatoes per year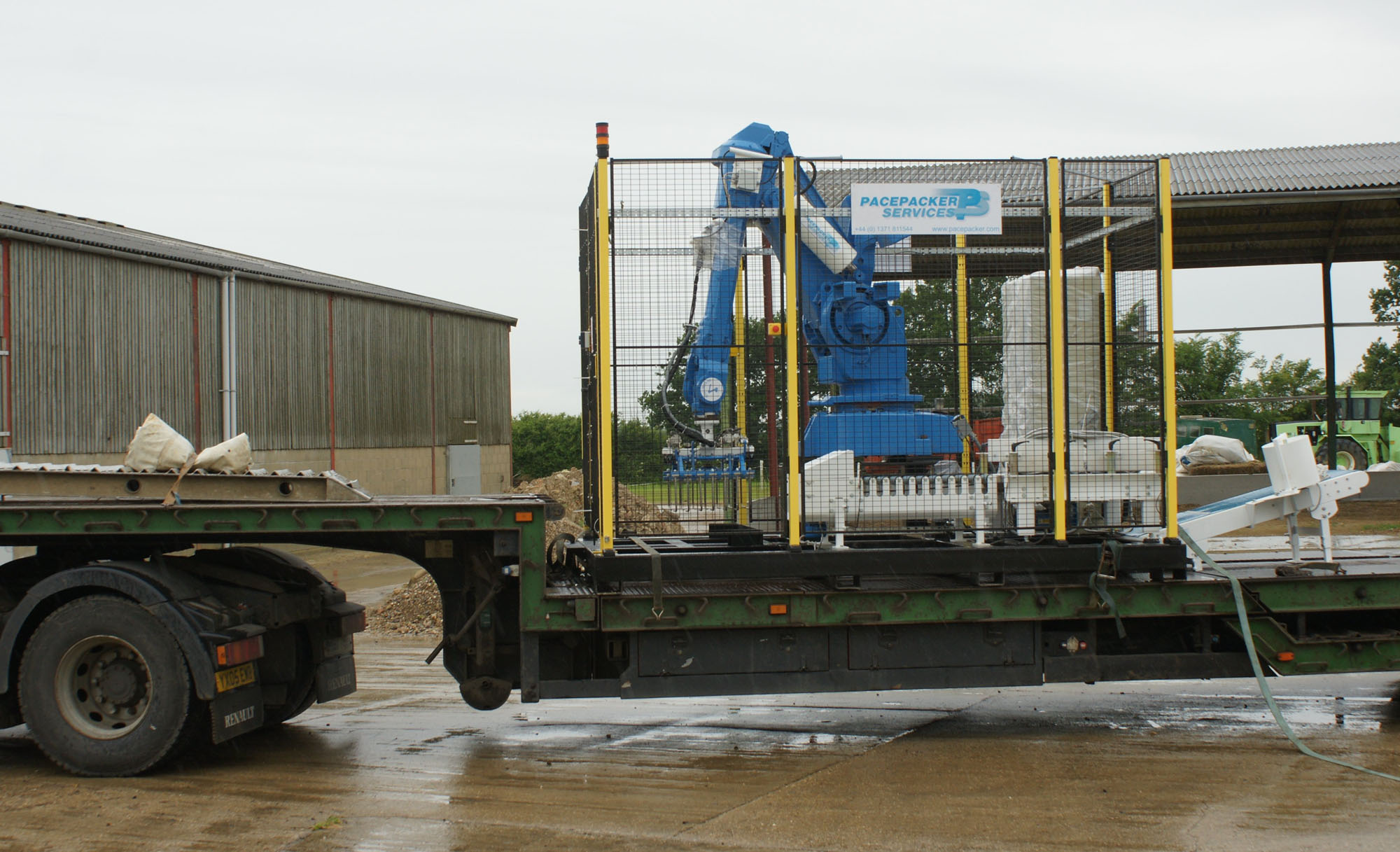 Mobile Robot SolutionThe robotic palletising and conveyor system installed within a moveable frame by Pacepacker, has not only given the Peterborough farmer exceptional packing flexibility, which is easily moved around its 13 mile long site, but improved pallet/product appearance at the family-run firm.

Belmont Farms grow, grade, pack and palletise an annual crop of 1,000 tonnes of potatoes, of which 600 tonnes are bought by UK fish and chip shops in 25kg bags and the surplus sold to bulk buyers.

The introduction of stricter manual handling laws coupled with their ageing workforce, who was tired of stacking up to forty five 25kg bags per pallet, were key drivers behind Belmont Farms' decision to invest in automated palletising.

"Although 25kg bags are a permissible weight within the Manual Handling Legislation in the UK, realistically it is very tiring for manual workers to stack high numbers of 25kg bags every day," said Andrew Fletcher, who farms the potatoes. "Now, instead of the sacks being stacked by hand, the robot picks them and stacks them on the pallet so instead of three men handling the bagging operation, we can get away with just two, which frees one person up to work elsewhere on the farm."

Critically, the automated solution was required to palletise potato sacks at two separate potato stores located at either end of the farm. As a result, Pacepacker designed a unique mobile system, as Pacepacker's Business Development Manager Paul Wilkinson explains: "When designing a heavy mobile system which incorporates a 2,500kg palletising robot, key considerations include safety and ease of transportation. Taking into account weight and footprint restrictions, we mounted the Blu-Robot palletiser, pick and infeed conveyors, control system and perimeter guarding onto a heavy-duty support frame in such a way that it could be easily transported between the farm's two potato stores using a fork lift truck to load it onto the farms trailer."

It was an important factor for Belmont Farms, that the system, which measured 5mx4m, could be easily sited around the farm, plugged in and turned on wherever packing was taking place without the need for any tooling changes. Moreover, the capacity offered by the automated Pacepacker palletising solution allows room for the famer's planned expansion in the future.

Pacepacker's pre-owned reconditioned Blu-Robot, which is typically half the cost of a new system, works tirelessly and accurately with little intervention, and its operation results in tidier stacks of sacks on the pallet than were previously possible with manual stacking. According to Mr Fletcher, unlike when they were stacked by hand, the bags are now consistently orientated on the pallet – label facing outwards and the right way up, which improves the look of the finished pallet – an important consideration when delivering to customers.

Potatoes are graded, weighed and filled automatically into the paper sacks, which are stitched, closed on an automatic line and conveyed into the Pacepacker infeed and onto the pick conveyor which feeds the Pacepacker Blu-Robot. The entire Pacepacker palletising solution is capable of handling around 300 to 400 tonnes of potatoes per week, which for Belmont Farms, results in sizeable growth options.