Mecmesin Announces Helixa Precision Torque Tester
New from Mecmesin, the Helixa precision torque tester has been designed for achieving precise alignment when using the most sensitive torque sensors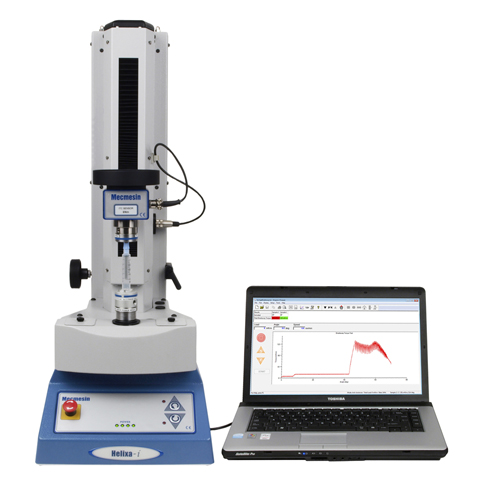 Mecmesin Helixa Precision Torque TesterIt is a significant development in the torque testing of finely engineered components.

Designers and engineers of the smallest rotary controls, the lightest springs, the finest bearings, and the most precise rotating fittings are already adopting the Helixa for its leading-edge features.

A choice of intelligent torque cells allows measurement from 6 N.m down to just a few mN.m. Concentricity at extreme low torques is ensured by the facility to align specific fixtures with the selected torque cell. Mecmesin's Emperor™ control and acquisition software provides for building sophisticated test programs and complex results analysis. This combination of features ensures an unparalleled degree of accuracy and repeatability.

The Helixa is ideal where rotation of components is very precise, or very light, measuring a range of critical torque features, including breakaway torque in fine bearings, the precise operation of click-stop dials and twist-dispensers, the 360 degree smoothness of controls, or the quality assurance of mass-produced medical Luer fittings.

Where axial forces count, the Helixa has additional key features. A counterbalancing mechanism can be used to remove axial forces due to the torque cell and fixturing, and if required, a top-load platen can then be used to apply a specific static axial force.

Applications for which the Helixa has been designed include:
• Luer fittings (slip and lock)
• Dosage-dial drug delivery devices (e.g. insulin pens)
• Light and miniature torsion springs
• Electronics rotary controls and components
• Fine and high-performance bearings
• Child-resistant closures (CRCs)
• Cosmetics twist-dispensers (e.g. lipsticks)

Mecmesin Managing Director John Page states: "with the release of the Helixa, Mecmesin now has the ability more effectively to address low torque applications (below 6 N.m) where the accuracy and repeatability of results is crucial. The counterbalanced crosshead means that the frictional effect on the sample from the mass of the transducer head during testing is significantly reduced. Combined with the ability to align and lock the position of the transducer concentrically in relation to the lower fixturing it ensures the Helixa will provide market-leading reproducibility of test data."

The Helixa is available as a PC-controlled version (the Helixa-i), driven by Mecmesin's powerful Emperor™ software, or as a stand-alone version (the Helixa-xt) controlled from an integral touch-screen console.

Complementing the Helixa is a range of torque testing accessories, including a precision fixing plate for securing even the lightest samples and bellows for dust protection. Mecmesin has a team of experienced application engineers to design bespoke fixturing often required for precision testing at this level.