Teams Tie For First Place At It Flies USA
This year's IT FLIES USA Aircraft Design and Handling Competition, held at The University of Dayton resulted in a tie for first place between University of Manchester, UK, and University of Dayton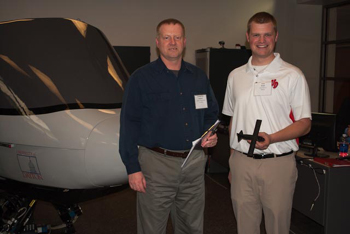 IT FLIES is the only student competition whereby test pilots fly students' designs.

Four judges from the Society of Experimental Test Pilots flew and assessed eight entries in the MP521 Engineering Flight Simulator at The School of Engineering, University of Dayton, Ohio.

The winners - Manchester's six strong team, designed an MCAV-VTOL multi-role jet fighter, and Mike Pratt, from UD entered his design of a 4-8 passenger STOL aircraft designed to be used in the Alaskan Tundra for transportation and small cargo drops in remote environments.

Mike Pratt commented 'The test pilots and the experience are awesome. They gave me a couple of things to work on for my design. The entire experience is invaluable, we get the chance to see how the aircraft we design on paper will perform – not a chance that many students get.'

Apart from the Manchester Team, there was also an entry from Coventry University, UK, and the Penn. State Team, who drove for 7 hours in order to compete!

IT FLIES UK on 10 June at Swansea University will have three entries from UD students.