Paper Converting Company In Portugal Orders Full Packaging Line
Long established paper converting company in Portugal has recently ordered a full packaging line from Jacob White of Dartford to produce tissue paper in cartons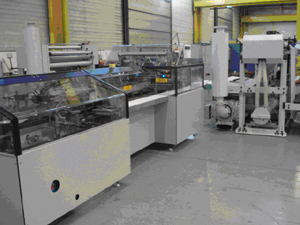 The company was looking to link 2 x DCM interfolders to one Jacob White Cartoning machine, model RSB 3.

The tissue paper clips are fed into the cartoning line via 1 X Log Saw and 2 x Banding machines. Individual stacks of tissue paper are taken from the exit of each banding machine, and then automatically transferred via a Jacob White gating system onto a conveyor, followed by a 180 degree specially designed conveyor into the infeed of the Jacob White Cartoning machine.

This very effective simple line system will guarantee a fairly high output of tissue boxes, and is flexible enough to also run Square "Cube" boxes.

Size changes are extremely easy and quick, with no parts or tools required, a size change can be done within 10 minutes.

The company chose Jacob White equipment for their simplicity, effectiveness, outstanding ease of operation, reliability and its recognised value for money benefits.