Reliable Wire Speed Measuring For Welders
In response to industry requests for a simple and effective method of measuring the speed of welding wire, Rheintacho have introduced the new Tw adaptor for its Rotaro 3.0 Digital Tachometer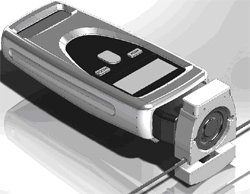 Many quality standards are requiring the measurement of wire feed speeds or the checking of calibration settings. A majority of these processes involve manual methods, but now there is a simple and effective alternative.

The Rotaro 3.0 digital tachometer is a popular choice for measuring rotational and linear speed. Supplied with a standard range of attachments to suit most requirements, it now has an additional use for measuring the speed of welding wire using the Tw adaptor. Suitable for unstressed wire with a diameter of 0.8 to 3.0mm, the all-metal construction is designed to give a long service life.

The Tw adaptor is simply fitted to the Rotaro 3.0 by a push fit connection. The wire is placed between the rollers by pressing the top to release the jaws. As soon as the wire feed is triggered, the speed is measured and recorded on the digital display.

Rotaro 3.0 is supplied in a plastic carry case, and each unit is individually calibrated.