Denso Steelcoat Chosen For Potash Warehouse
AV Dawson Ltd, who were founded on Teesside in 1913 are a multimodal distribution logistics supplier, who operate a diverse range of haulage, shipping, warehousing and railhead facilities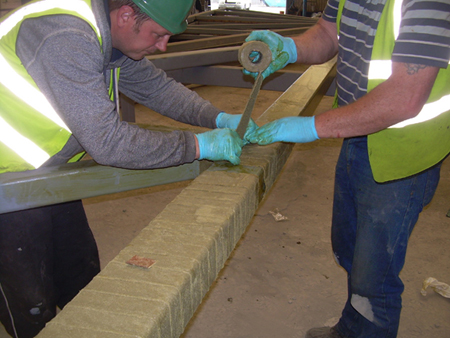 Steelcoat System to Roof Truss Ssections At their Ayrton railhead site they handle potash from a nearby mine in North Yorkshire which is very aggressive to steel structures. Consequently they have historically used anti-corrosion coating systems supplied by Winn and Coales (Denso) Ltd to protect roof trusses from corrosion.

When they recently replaced roof trusses in a section of one of the warehouses used for storing the potash they designed the trusses as hollow rectangular sections to allow easier application of Winn and Coales' Denso Steelcoat 100 System.

Denso Steelcoat 100 System consists of Denso Hi-Tack Primer and Denso Hi-Tack Tape and provides excellent long term protection to steel structures in aggressive environments. On this occasion, Denso Self Adhesive PVC Tape was used as an outerwrap to provide additional protection in the aggressive dusty atmosphere of the warehouse.

This system has been used in several applications at salt mines and salt handling facilities and has a proven history in providing long term protection in such environments.