Denso Steelcoat Chosen For Derry Gas Pipeline
Firmus Energy are a gas network operator responsible for the supply of natural gas to over 10 major cities and towns in Northern Ireland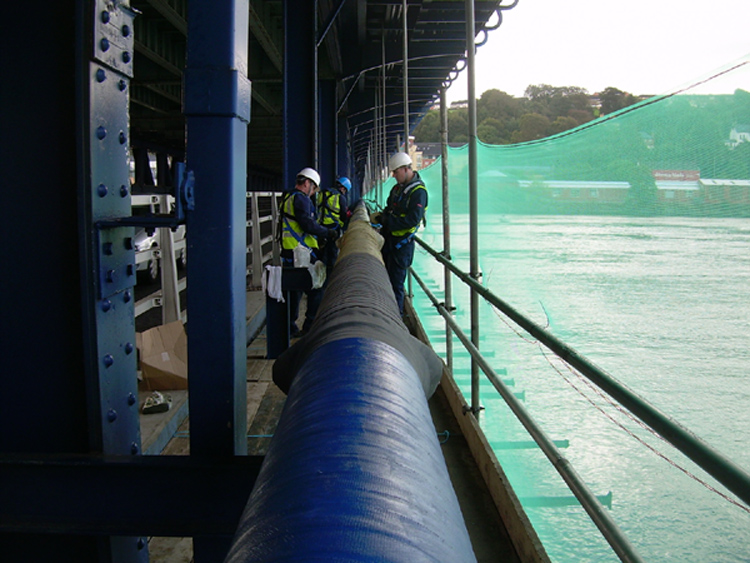 Firmus recently decided to upgrade the protection to a 360m long 273mm diameter pipeline carrying natural gas across the River Foyle in Derry / Londonderry

Following consultation with contractors McNicholas it was proposed that the use of Winn and Coales (Denso) Ltd's Steelcoat 100/400 system to provide long term protection from corrosion in the aggressive marine environment. The heavy duty Steelcoat system comprises Denso Hi-Tack Primer, Densyl Mastic, Denso Hi-Tack Tape, Denso Ultraseal Tape and Denso Acrylic Topcoat. It was chosen due to its proven properties for long term protection and its suitability for application to surfaces with minimum surface preparation.

The Denso Steelcoat system was applied by EB Gas Services Ltd of Newry under the supervision of McNicholas. Surface preparation to remove old loose paint coating was carried out by EB Gas Services using hand scrapers and wire brushing.

Firmus Energy are delighted with the completed application which included matching the Denso Acrylic Topcoat to the colour of the existing overall bridge structure.