Denso Protal Again Chosen For Brine Fields Weld Joints
Winn & Coales Denso Protal, with its corrosion resistant properties, was used to coat steel welded joints and fittings on the 900mm Stublach Minimum Offtake contract for National Grid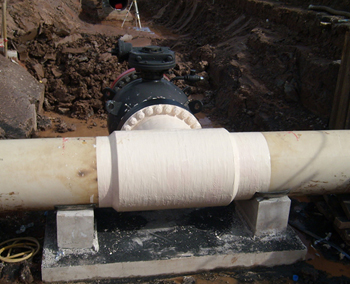 J Murphy and Sons Limited have again chosen Denso Protal 7000 brush grade to protect additional welded joints and fittings. These are on the 750mm bi-directional pipeline tie-in to the Minimum Offtake to connect the underground Gas Storage Infrastructure being developed by Storengy UK Ltd, a subsidiary of Gaz de France.

Following shotblasting to the Swedish St 2 standard, Murphy applied the Denso Protal 7000 which enabled them to obtain a required coating thickness of 1000 microns in two applications.

Winn & Coales Denso Protal coatings give effective anti-corrosion properties by forming a firmly bound corrosion inhibiting film on the metal surface. The result is a thick, effective physical barrier against air and moisture which remains permanently flexible. The brush grade can be applied by plural Hydrocat spray.