European Yield Pro Launch At Agritechnica
Great Plains is launching a new version of its market-leading Yield-Pro precision planter that folds to 3m for transport especially for the Western European market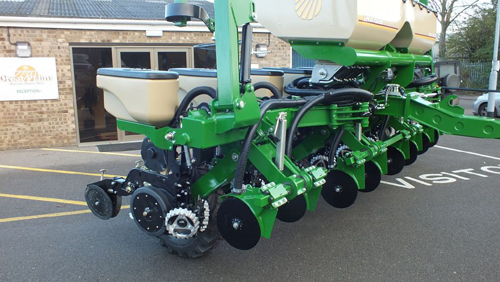 The new machine, the YPE-825A, can plant a wide range of row-sown crops. It can sow eight single rows or 16 in Great Plains' Twin-Row arrangement and place seedbed fertiliser when in either format.

YPE-825A planters use the company's Series 25 opener, which is proven to maintain over 99% accuracy at working speeds between 8kmh and 10kmh (around 5.5mph) - speeds at which the accuracy of competitor planters starts to reduce – so it offers users a combination of precise placement and excellent output.

This accuracy is achieved by the interaction of several key elements, starting with the Air-Pro meters which use air pressure to singulate seed in the seed wheel. This pressure releases just before the seed reaches the top of the Clear-Shot Seed Tube.

Once in the tube, it falls under gravity alone and when it lands is immediately pressed into the seedbed by the Keeton Seed Firmer, so the accuracy of seed placement is maintained.

In single row format, the YPE-825A plants eight rows, with buyers having four row-spacing options: 70cm; 75cm; 76.2cm (30 in) and 80cm.

It can also work in Great Plains' Twin Row formation, in which two rows of seed are placed 10 cm either side of a centre line, with spacings between the centre lines of 75cm; 76.2cm (30in) and 80cm available.

In Twin-Row, all seeds have a dedicated root zone because they are separated from those in the same row and the adjacent one. This technique produces bigger, stronger and more viable plants, and offers yield increases of 500kg – 600kg/ha in maize.

Folding is hydraulic, with the wings folding laterally and forward. Transport width is less than 3m in all formats except the 80cm single and Twin-Row, which folds to 3.30m.

Seed is pneumatically delivered from 53 litre tanks, while solid fertiliser also moved pneumatically from a 1,700 litre tank. Application rate is controlled via a ground driven wheel.

The planter needs a 160hp – 200hp tractor depending on whether single or Twin-Row format is being used. In single row format, it is fitted with 11.5/80-15.3 tyres; in Twin-Row format it uses 215/75R-17.5.