Vacuum Blowers Hold Marquetry Veneers Secure And Flat For Laser Cutting
Aryma is a company that specialises in designing and creating the finest marquetry for interiors and furniture and has an established international customer base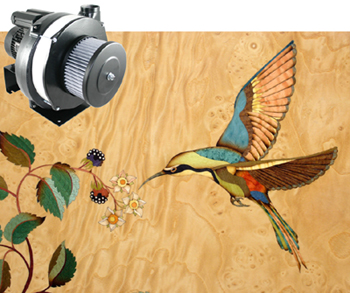 To help achieve its aesthetically satisfying finished designs the company uses vacuum blowers from Air Control Industries (ACI) to hold the veneers as each piece of the intricate designs is laser cut.

Aryma of Llandrindod Wells has over the last 20 years offered a very individual service that combines excellent craftsmanship with state-of-the-art technology to convert designs into the finest marquetry creations.

Many different wood veneers are used to produce these designs and an essential part of the production process is the high precision laser cutting out of each individual part of the designs. To ensure this is achieved, the veneers must be held firmly in place, pulled down flat onto the cutting bed to eliminate the natural wrinkling that occurs in veneers. This is the role of the ACI MultiStage vacuum blowers.

ACI MultiStage units are employed on five 700 x 700mm cutting beds. The MultiStage units have flow rates of up to 850m3/hr sufficient to generate the vacuum required to fulfil both these duties.

"We have been using the ACI units since 2000", said Howard Sansome, managing director of Aryma. "They have proved reliable and efficient since installation. They run nice and quietly which is important to us since it helps maintain a pleasant working environment."

ACI Multi-Stage vacuum blowers are of centrifugal design with impellers mounted directly on the motor shaft, an arrangement that gives the dual benefits of high vacuum power with low energy consumption. The impellers are sheet aluminium and are balanced for optimum performance and minimal running stresses. They are suitable for both blowing and exhausting duties.