Powering Up In Australia
Great Plains agent in Australia and New Zealand, Power Farming Group, is strengthening its presence in Australia with the addition of 25-year-old John Simpson to its sales team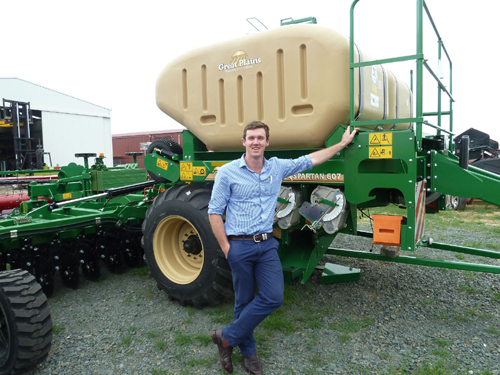 John has a degree in agronomy and initially worked for one of the country's largest agricultural merchants before joining PFG.

He will work across the states of Victoria, South Australia and the bottom half of New South Wales, says Graham Leigh, PFG's Dealer Principal: "We expect John's background as an agronomist to prove really valuable when dealing with farmers.

"We regularly find problems with conditions like compaction across these states, but many farmers are committed to direct drilling and disturbing the soil as little as possible because they fear moisture loss.

"We expect John to be able to work with them and find the right solutions to their issues, and help them optimise yields while staying in control of costs and sorting out any agronomic problems".

John says he is looking forward to the fresh challenge: "It is a lot of work learning about all the different machines, and learning about some crops and systems I haven't dealt with in detail before, but I am sure my background in agronomy will help when working with farmers across the region".