Oilseeds Planting Gets Precision
Great Plains is introducing a new seed singulation and spacing system that will enable the Yield-Pro planters to place oilseed rape with the same accuracy they already achieve with other crops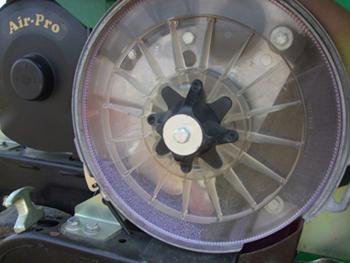 The oilseeds disc system includes improvements to both the brushes in the Great Plains Air-Pro Metering system and the patented Clear-Shot Seed Tube.

The new elements will be introduced across the entire range of planters from November 2013, and can be retro-fitted to existing models.

Yield-Pro planters can be set up to work like conventional planters and seed single rows, or use Great Plains' patented Twin-Row system, in which they establish two rows either side of where a conventional row would be, this technique being proven to raise maize yields by over 10%.

The new oilseed rape disc is 275mm in diameter and includes 250 seed pockets around its outside edge. Each seed is held in the pocket by air pressure, which is released shortly before it reaches the top of the seed tube, so it falls under gravity, achieving the 'dead drop' that Great Plains says is crucial to achieving even spacing in the row.

Great Plains has increased the amount of a specially formulated anti-static material used in the Air-Pro Metre brushes to prevent "static cling" that can damage metering accuracy, while also using a more transparent material in the seed tube to improve the performance of the monitoring sensors.

"Any seed being used at low rates is prone to 'static cling', and these changes will improve performance and accuracy", says Mike McClure, Great Plains' Engineering Manager.