MasoSine Pump Ideal For Clotted Cream Application
A MasoSine SPS2 sanitary process pump supplied by Watson-Marlow Pumps Group has helped Rodda's, a Cornish creamery with a history dating back over 120 years, to implement a new clotted cream line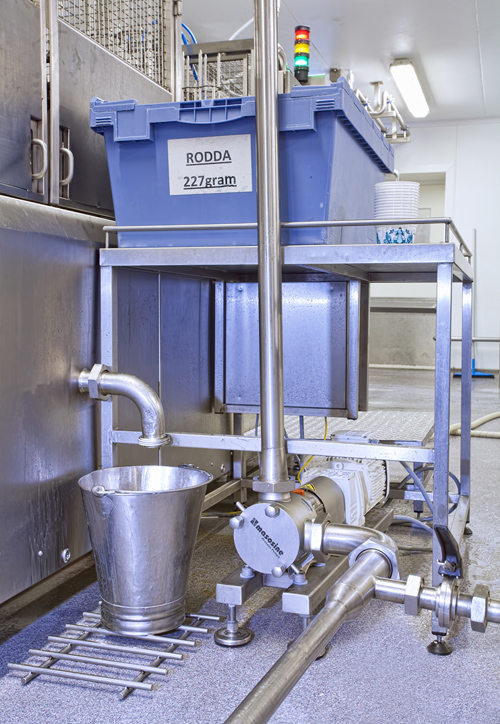 MasoSine Pump For Clotted CreamInstalled at the end of 2012 in time for the Christmas rush, the product benefits from the sine pump's high flow yet gentle handling characteristics.

The MasoSine positive displacement pump features an exclusive sinusoidal rotor that overcomes the limitations of conventional rotary lobe pumps to produce powerful suction with low shear, low pulsation and gentle handling.

"This isn't a high pressure application, rather a high volume one," says Mr Johnson. "Essentially the pump transfers liquid cream from tank to a hopper on a new production line. The machine then fills our range of pots."

For this application, the MasoSine SPS series is an ideal match, offering gentle handing that minimises the potential for aeration, yet with the high flow (up to 100,000 litre/hr) required to match throughput demand at Rodda's. It takes six pints of milk to make a 227g pot of Cornish Clotted Cream, and each day Rodda's make enough clotted cream to outweigh eight rugby teams.

High flow is achieved using the pump's sine-wave-shaped rotor, which creates four moving chambers that convey the duty fluid from the inlet port to the discharge port. The scraper gate prevents any fluid passing back from the discharge side to the suction side of the pump. Rodda's operate the MasoSine SPS in conjunction with a variable speed drive and ultrasonic level sensors in the hopper. If the level is high, the pump runs slower and vice versa.

"At the time, because of the need to meet pre-Christmas demand, Watson-Marlow helped us out with the immediate delivery of a demo pump. It was a manual version of the pump we have now, and it got us through this busy period nonetheless."

This was good news indeed for the company's customer base, many of whom refuse to take anything less than Rodda's PDO-certified Cornish Clotted Cream.

In 1890, Eliza Jane Rodda started making clotted cream in her farmhouse kitchen in the heart of Cornwall. It was an immediate hit and before long she was 'exporting' it to London.

Over 120 years on, Redruth-based Rodda's is still producing their famous Cornish Clotted Cream the same way, by gently baking rich local cream until it's silky smooth with a characteristic golden crust , which is why it's been awarded Protected Designation of Origin (PDO) status, along with other well known foods such as Champagne and Parma ham.

In terms of manufacturing operations, prestigious brands demand suitably befitting production equipment. Tasked with installing a new cream line, Engineering Supervisor at Rodda's, Paul Johnson, knew the pump for the job.

"Clearly we are keen to avoid any product damage or compromise to product integrity," he states. "Using a centrifugal pump, for example, would effectively turn the cream into butter. We already knew about the MasoSine sinusoidal pumps available from Watson-Marlow & we have found the pump compliments our new filling assembly.