Ultrascape Provides A New Look For Polish Main Market
Main Market in Jaworzno has been brought back to life following a rejuvenation scheme. All paving was grouted using the worldwide renowned Ultrascape Flowpoint – rapid set flowable paving grout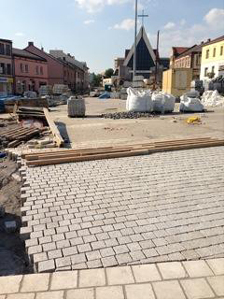 Ultrascape Flowpoint in PolandLocated in the Silesian Highlands in southern Poland, Jaworzno has recently undergone large scale regeneration in the Main Market. Approved by the Jaworzno Town Council and supplied by Cemix, Krakow based contractor Profkam Józef Gastoł used Flowpoint to grout 7000m² of granite blocks.

Flowpoint is an independently tested and approved flowable paving grout. Fast and efficient to apply, Flowpoint easily meets the demands of heavily trafficked areas as well as domestic paving environments.

Suitable for almost all paving types, including Yorkstone and granite, paving grouted with Flowpoint can be opened to pedestrians in just 1 hour and vehicular traffic in 4 hours, minimising disruption.

Mixed easily on-site with water, Flowpoint can fill joint widths of 5-50mm and joint depths of up to 200mm in one pour, leaving a perfect, stain-free finish.

With a proven track record spanning over 25 years, Flowpoint has been used in many countries around the world including the United Kingdom, Sweden, Cyprus, Norway, Belgium, New Zealand, and has been used for a variety of projects including high street rejuvenation, driveways, train stations, and famous hotels such as the Savoy and Marriott.

Jaworzno Town Council was extremely impressed with Flowpoint and has since advised the use of Ultrascape materials for a further 7 projects around Poland.