Delta Fire Report Record Fire Nozzle Sales
Delta Fire, the UK's largest Fire Nozzle manufacturer, is delighted to report that sales for their market leading fire nozzles hit a record high in the 2012/13 financial year to July 31st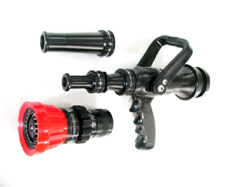 These sales reflected an overall increase in general sales for the company over the period and a continued pattern of strong, sustainable growth since Delta's inception in the late 80's.

In difficult economic times 2013 has already seen huge investment in the infrastructure of Delta's business with new bespoke manufacturing facilities housing an expanding CNC operation running dual shift manufacturing to satisfy growing demand.

With an in-house advanced 3D-modelling and simulation capability Delta Fire use rapid prototyping of fire nozzles through 3D additive modeling generating new advanced designs.

Delta Fire is widely recognised as a leading force in this specialist field and is proud to supply many prestigious global companies with their nozzles.

Already the main supplier to the UK Fire & Rescue Services, Delta Fire Nozzles are widely used in the Marine, Petrochemical, Industrial, Aviation, Construction and Defence sectors.

To facilitate Delta's continued growth a 25% increase in personnel has ensured that their infrastructure can support the increase in business with productivity and service maintained at all times.

Research and Development has always been at the forefront of Delta's manufacturing ethos and throughout 2013 a number of innovative programs will give rise to new products later this year and into 2014.

Over the last few years Delta Fire have worked closely with Fire & Rescue Services to fulfill their specific requirements for bespoke fire nozzles for use in High Rise buildings capable of maintaining performance when flow rates can vary, particularly on upper floors.

This year's Emergency Services Show at Birmingham's' NEC (25th & 26th Sept) will see Delta exhibit their innovative range of High Rise nozzles including the exceptional 'Floor Below Nozzle'.

With the support of a dedicated technical and design team Delta Fire are committed to pushing the boundaries of design and development in firefighting equipment manufacture in the UK and look forward to new challenges and opportunities next year.