Double Success For Hungarian OSR Trials
Oilseed rape establishment trials completed by Great Plains in Hungary this year have achieved a valuable and elusive double – by raising yields and cutting growing costs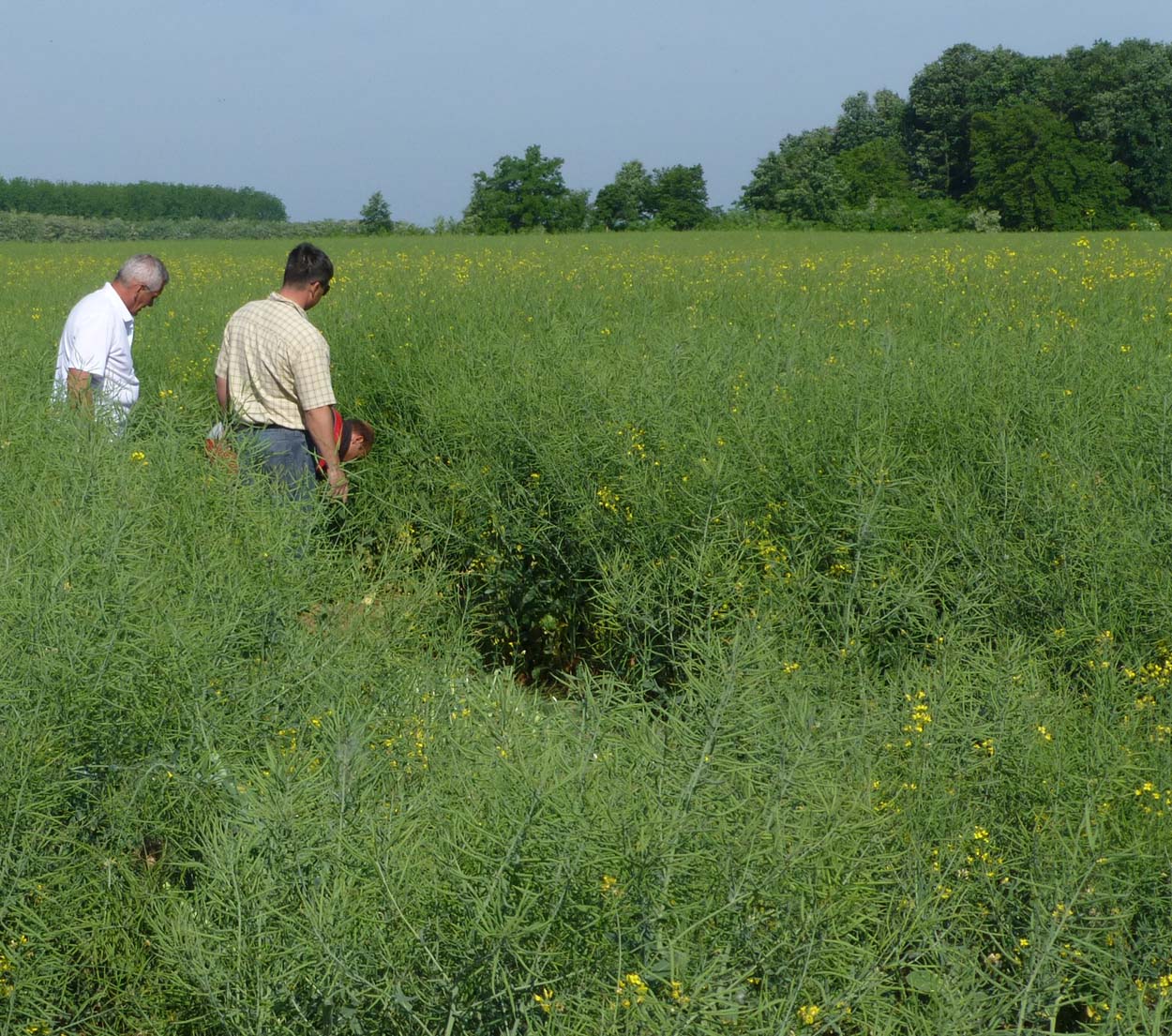 A healthy stand of oilseed rape plants almost submerges trials staffAnd the improvement in soil structure achieved by Great Plains' Simba DTX cultivator is crucial to this success, says Simon Revell, European Exports Director.

The trials – conducted on five sites spread across the country – have helped raise yields by anything between 400kgs/ha and 700kgs/ha.

They compared crops established after ploughing, several cultivation passes and drilling – the conventional system used in Hungary – and crops established after one or two non-inversion passes, with a Great Plains Simba DTX and seeder doing the second pass and seeding:

"We have achieved a combination of a very positive yield increase and a reduction in costs which has greatly improved profitability on the trial plots. Many of the farmers who have visited these plots are now looking seriously at the techniques and machines involved.

"Yield benefits of the size we have achieved represent a 10% to 20% increase over normal yields in the country (3.0t/ha to 3.5t/ha).

"Combined with the reduction in costs, that has improved the margin by around 180 Euros/ha".

"The trials clearly show that understanding soil structure is crucial, as is removing deep set compaction and restoring correct conditions for the crop to establish a healthy root system.

"In some of the trial plots the structure was so bad we had to use the FlatLiner subsoiler because we had to work deeper than 400mm (the DTX's maximum working depth) to remove compaction problems.

"These results also show the importance of enabling the crop to establish a strong root structure before the winter shutdown.

"Root bulk density is key to enabling the plant to fully access moisture and nutrients throughout its lifetime, so it can develop fully and make best use of light and space in the spring to create the maximum foliage and flowering.

"We got exceptionally good results where we achieved a target plant population of 25 plants/square metre – we seemed to get more branchlets, better flowering and pollination, leading to large, healthy seed pods.

"Because the roots could get down to access deeper lying moisture, we suffered much lower rates of pod loss towards senescence, which has also helped raise yields".