Entry Level Cultivators Make Working Debut
Two models from Great Plains' new entry level specification cultivators will make their public debut at a working demonstration at the Tillage Live event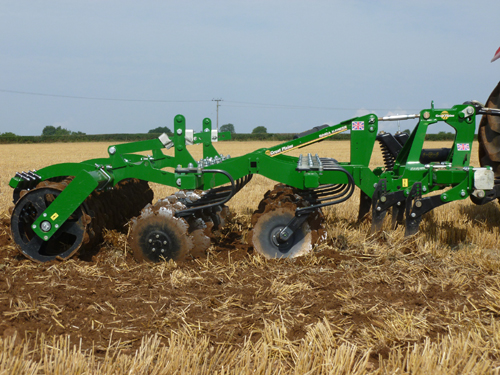 The new style 3m X-Press & ST Bar and the new TL tined cultivator will be shown working at the event. Also being demonstrated will be the 6m Centurion drill; SLD 540; SL400; DTX300; 4.6m X-Press; CultiPress and UniPress.

These new specification machines are already attracting significant interest from farmers who work consistent soils and who don't need the full adjustability of working elements that the company offers within the specification.

Additions to previously offered specifications include shear bolt leg protection; bolt-on points; individual manual adjustment of cultivating discs and a wider choice of rear rollers. These changes make the machines simpler and lighter, and are reflected in their price.

"Our existing customers appreciate the full adjustability of working elements that we offer in our current specification that enables them to cope with changing soil types; differing working systems and high stone burdens", says David Holmes, UK Sales Director.

"But many other farmers don't need that level of specification. These new options will make the machines lighter and offer selected cost reductions, which we hope will enable more of them to benefit from Simba's design and component standards".

The new style models being demonstrated include the mounted Simba X-Press and ST Bar, which is now offered with shear-bolt protection of the ST and LD soil restructuring legs; bolt-on points; manual individual disc angling and a choice of six rear rollers.

Also being demonstrated will be the Simba TL300 with shear-bolt protected restructuring legs; fish-tail coverers as an option for the sprung covering discs and a V-roller – one of the six roller options now available.