Tea Provides Plant Tonic
Award-winning James Coles Nurseries is ensuring it is ready for the future by using an innovative natural plant tonic - helping reduce its use of applied fertilisers and crop protection products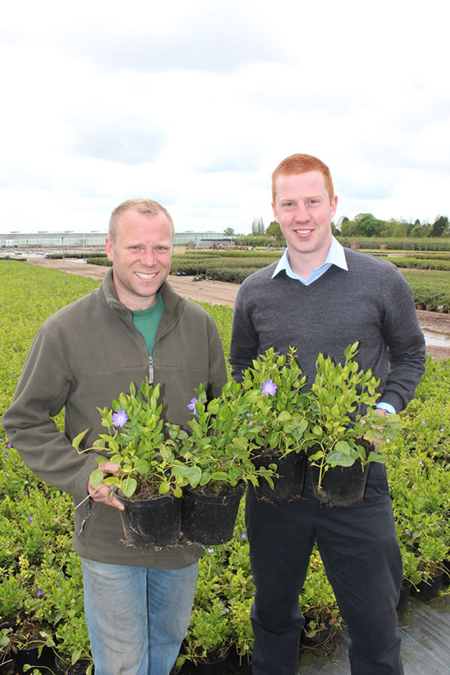 James Moffat / Harry Hitchcock of James Coles NurseriesThe company has won numerous awards over the years for the quality of its produce, and aims to ensure that continues by continually searching for ways of improving its systems – which has included using Compost Tea as a plant tonic.

Compost Tea – made with the Growing Solutions Compost Tea Systems supplied by Martin Lishman Ltd - is a microbe-rich solution made by 'brewing' quality compost in water for 24 hours, which multiplies the population of micro-organisms many times over, producing a light brown solution (hence the product's name) that can be applied via sprayers or irrigation systems.

Container Nursery Manager James Moffat says trying new products is essential for the company's future:

"There is constant pressure on the crop protection chemicals we use and products are disappearing from the market all the time. Replacements – and those that remain – are increasingly expensive, so it makes business sense to examine alternatives.

"We use products like wormcast and IPM programmes in our glasshouses to control insects. We also do things like including 30% wood fibre in our compost mixes to reduce our peat usage. We cannot afford to be 'left behind' in that respect.

"We had heard of Compost Tea and discussed it with other British growers, and especially with some Dutch contacts before we started using it several years ago.

"It provides a real tonic to the plants and helps protect them against fungal and bacterial problems, as well as controlling diseases like leaf scab and downy mildew. We have been able to reduce spray usage because the plants seemed more vigorous and stayed cleaner and we were able to use fewer sprays for these diseases.

"That improved health has also enabled us to reduce the amount of controlled release fertiliser we incorporate in the compost mixes we use, from six kilogrammes/cubic metre to four kg/cubic metre".

They now use Compost Tea on all 500 varieties of container stock they produce at their 20-acre Syston site, where they have a 400 litre Growing Solutions brewing system that feeds the solution directly into their irrigation system:

"We irrigate every other week during the growing season – typically from April to the end of September – and include Compost Tea at 1% in the water".

On a practical basis, he says any member of the team can use the system: "Because it isn't a chemical, you do not need any specialist training or qualifications".

Harry Hitchcock, Coles' Marketing Manager, says the fact that their plants are being produced with lower chemical usage is a useful marketing advantage when selling into the amenity, landscaping and garden centre trades.