The All Weather Pothole Repair
Whilst some parts of the world are in the midst of cold and freezing temperatures, others are enjoying blistering heat ... but one thing they all have in common? POTHOLES!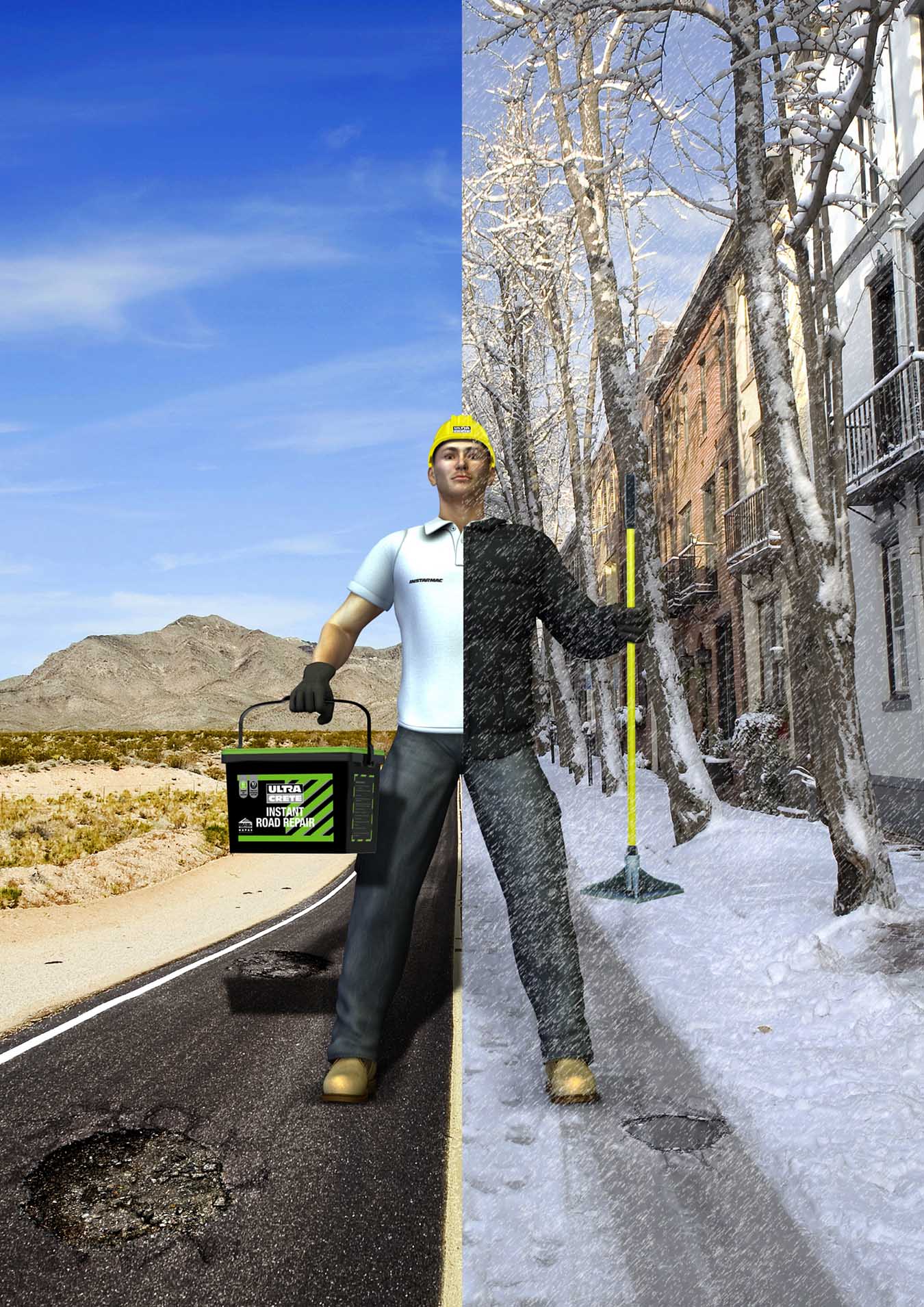 Instarmac All Weather Pothole Repair ManPotholes are one of the biggest talking points costing the global economy increasing amounts of money to repair, and with many traditional road repair materials failing (often more than once), the pothole situation is only going to worsen.

Potholes are formed due to a multitude of factors, most commonly, the 'freeze-thaw' effect. This is when water gets into voids in the bitumen surface ,freezes and expands, causing a crack. More water gets in and freezes, causing the cracking to get steadily worse, imminently resulting in motorists, local authorities and municipality's worse nightmare – a pothole!

This is where Ultracrete can help! Ultracrete Instant Road Repair® is a cold lay asphalt concrete which has been continuously developed over the past 35 years. It has been used all around the world with excellent results.

Some of the major projects to date include Germany's Potsdam Autobahn where peak traffic reaches 900,000 a day and Nigeria's Gbongan-Oshogbo and Ilesa Road which has proven to play a crucial role in keeping the area's rural communities connected. It also has been used in Brazil, Japan, Sweden, China, Romania plus many other countries.

Applied in 3 easy steps – clean, pour, compact – Ultracrete Instant Road Repair® can be applied in all weathers including hot, dry, humid and even monsoon rains. This innovative material has been independently tested and is proven to be a quality, durable solution for first time instant and permanent repairs. Plus it's versatility and durability means it is just as suitable for heavily trafficked environments as it is driveways and car parks.

Ultracrete Instant Road Repair® are just one of the many highway repair materials available from Instarmac. To find out more, please contact us - details below

Ultracrete Instant Road Repair® is available for you to manufacture under license. To find out more about this exciting business opportunity, please visit http://www.youtube.com/InstarmacGroup to watch our step by step guide on becoming an Instarmac licensee.