Toilet Paper Manufacturer Installs Six Qdos 30 Metering Pumps
The recently launched Qdos 30 metering pumps from Watson-Marlow Pumps Group are delivering significant process improvements at a Brazilian toilet paper manufacturing plant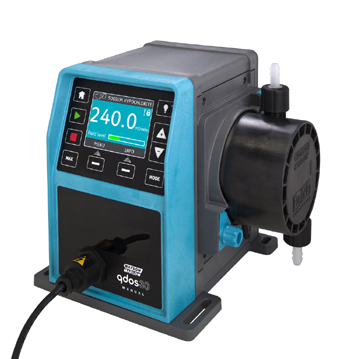 What's more, further Qdos orders could now result from the planned installation of a further new product line.

São Paulo-based Manikraft Guaianazes Pulp and Paper Industry Ltd was founded as a family business in 1961. The company is today a 700-employee concern operating out of two production facilities in the city. Over the years Manikraft has brought a number of well-known toilet paper brands to the marketplace, such as the Mascot, Mirafiori and Primavera brands. In fact, the latter is now an established market leader that is exported throughout Latin America.

Until recently, Manikraft used solenoid-style diaphragm pumps to dose chemicals such as additives, release agents and resins into the pulp. However, the company encountered problems with incrustation and air bubbles that compromised final product quality.

Determined to improve their process, Manikraft investigated peristaltic pumping solutions. With no valves in the fluid path to clog, corrode, or vapour lock, peristaltic pumping sounded to be the perfect solution. Manikraft now needed to choose which peristaltic pump was the best fit to economically retrofit into their system and deliver consistent quality for the long term.

The answer arrived in the form of Watson Marlow's Qdos metering pumps, which are designed specifically for chemical dosing in industrial markets. The main benefit for Manikraft is that these high performance pumps accurately meter chemicals without the need for any valves or ancillary equipment, keeping costs to an absolute minimum – in fact, the total cost of ownership is less than that of a typical solenoid or stepper-driven diaphragm pump.

Qdos was considered a perfect match for Manikraft for a number of reasons, such as accuracy, repeatability, quick maintenance, and budget. In fact, maintenance intervals are up to an impressive 4000 hours at typical usage, reducing the impact of downtime. This is crucial to a company which operates its pumps 24 hours a day.

Manikraft varies the flow depending on the application and needed a pump with ease of accurate, repeatable dose adjustment. For instance 90-130 ml/min is preferred for resin dosing; 5-20 ml/min for release agents; and 20-70 ml/min for additives. Qdos fits the need, offering 5,000:1 flow range and 1% accuracy which can be achieved either through the user-friendly HMI or through plug-and-play auto control inputs.

As with any retrofit application, matching quality to a tight budget was important. Manikraft was familiar with lower cost peristaltic pumps, including pumps that used separate inverter controls. Though within budget, inverter driven pumps did not offer the speed range, accuracy, compact footprint, or simple operator interface that Manikraft needed.

Offering an all-in-one pump solution, the right functionality for the job, and competitively priced with solenoid diaphragm pumps, Manikraft considered Qdos the perfect solution for them. Qdos pumps also feature the innovative ReNu pumphead technology. Quick and easy pumphead removal and replacement minimises process downtime and requires no specialist tools, training or technicians.

Upon seeing Qdos for the first time, Manikraft immediately installed a pump in their process. That first pump delivered such impressive results that a number of further Qdos pump orders followed.

In the meantime, Manikraft has worked with Watson-Marlow to use peristaltic pumping elsewhere in the plant, installing the company's new Bredel Apex high flow hose pumps for transfer of polymers and peroxide dosing.