Concordia Baby To See Mothership For The First Time
Concordia Baby, the latest vessel to be completed by specialist workboat builder Alnmaritec, is heading to the Falkland Islands to be installed onto the mother ship M/V Concordia Bay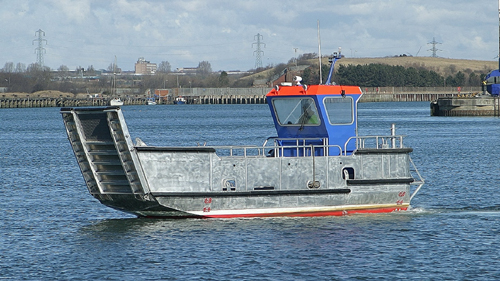 Landing Craft 'Concordia Baby' Operated by Workboat Services Ltd, MV Concordia Bay provides a vital service as a passenger and cargo ferry within the archipelago. A landing craft measuring 45.5m she is able to lower her bow ramp on suitable beaches, however many of the islands are difficult to reach and therefore there is a requirement for a smaller craft, as local Manager Adam Cockwell explained, "delivering goods, supplies and passengers to all of the islands is a real challenge for us and in some cases can only be achieved with a smaller craft than MV Concordia Bay. We were looking for a vessel with a very specific set of design criteria which we found could not be met with an off the shelf product."

Having approached the market, Workboat Services Ltd engaged with Alnmaritec to provide a custom design based on the popular Wave Supplier class. It was this customisation which proved to be a key factor in the selection of Alnmaritec for the project. "We looked at a number of suppliers but chose Alnmaritec due to the excellent reputation the company has, their experience, and the confidence we had that they would be able to provide us a design solution to meet our needs. We had to ensure that we achieved the highest possible payload whilst keeping the overall weight and size to a minimum - Alnmaritec were able to provide that", said Mr Cockwell.

Alnmaritec Managing Director Chris Millman added, "the design requirements were a challenge but what we've produced is a very robustly built landing craft, able to cope with the rigours of coastal operations. She is fitted with powerful engines and stern drives giving her good speed and exceptional manoeuvrability for operations in this part of the world"

As well as those characteristics the boat also boasts a substantial loading ramp at the front end of the deck which is specifically designed to load off a beach or slipway and she can carry diverse payloads ranging from a Land Rover or small JCB through to a herd of sheep.