BHR Group at Innovate 2013 Adapt or Die
Gerry McNulty, Technology Director at BHR Group reflects on his recent attendance at Innovate 2013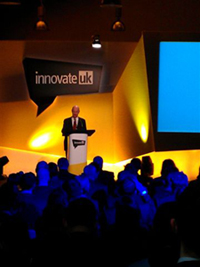 Innovate 2013 Conference"Innovate 2013, the UK's leading multi-sector innovation and trade event for business may not have ran with the strap line Adapt or Die but it could not be more clear that for businesses to survive, let alone flourish, they need to be creative in their thinking, products, and processes.

BHR Group's presence at this year's event was to share with small businesses, SMEs and start-ups, our experiences as an innovation-driven business, the hard earned processes that we have developed that support our value proposition, and the services and advice that we offer other organisations who may be making those first tentative steps along the innovation path.

I was particularly taken by the speech from the Rt Hon David Willetts, Minister for Science, with a surprisingly (for an MP) blunt and forensic analysis of the failures of successive governments in providing, if not direct intervention, but at least a framework in support of business. For more than a year, Mr. Willetts has waged an intellectual and political campaign to slaughter the muddled yet sacred cows of the 1980s such as 'no picking winners'. His proposition was that, just like small businesses, government must create a different role for itself that strikes a better balance between short-term value for the taxpayer and long-term benefits to the economy. In doing so, government needs to play a more strategic role to improve infrastructure, identify skills and the training we need, and the underpinning of research and development.

I was heartened to hear him say that government should pursue a relentless campaign to support entrepreneurs and wealth creators. This might mean traditional solutions, like granting generous tax exemptions for start-up businesses. It's about the state taking a strategic role, deploying our funds and resources in the wisest possible way. It's about doing everything we can to get Britain trading its way out of trouble and towards prosperity. He clearly understands that the 'Adapt or Die' mantra also applies to government."

Gerry McNulty is Innovation Director of BHR Group, an independent contract research, technology and product development organisation specialising in the application of innovative fluid engineering in a number of industrial sectors, including chemicals, food and drink, pharmaceutical, mining & minerals, water and wastewater, aerospace, energy and manufacturing industries. Established over 65 years ago, BHR Group works with industrial companies and governments helping them to maintain their competitive edge by providing independent and impartial expert advice, specialising in technical services and knowledge transfer.