BHR Group Staff Staying The Distance At AIRTO Dinner
AIRTO represents a diverse range of innovation-led business interests that are bound together by similar challenges, be they skills development and retention, or tax and fiscal registration and incent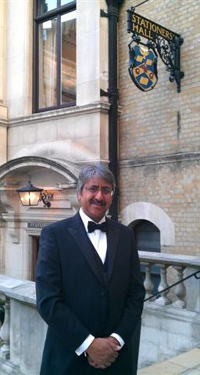 Raghbir Chand Managing Director of BHR GroupThe BHR Group Managing Director, Raghbir Chand, and Technology Director, Gerry McNulty, recently attended the AIRTO (Association for Independent Research and Technology Organisations) Annual Dinner and Discussion at the prestigious Stationers Hall in London.

AIRTO represents a diverse range of innovation-led business interests that are bound together by similar challenges, be they skills development and retention, or tax and fiscal registration and incentives. The Dinner was a rare opportunity to share insights with other industrial research organisations as well as listen to a presentation by Phil Smith, Chair of the Technology Strategy Board which plays a pivotal role for UK wealth creation through innovation.

Having recently re-joined AIRTO at a corporate level, the senior managers who attended this year's event took the opportunity to meet old friends and develop new ones. With over 120 people representing more than 70 different UK organisations, creating new friendships wasn't difficult to achieve.

Phil Smith delivered a polished vision of the impact of innovation on our lives and its importance in maintaining a competitive position on the global stage. Gerry McNulty felt he did however miss the opportunity to address what UK government in general, and the TSB in particular, are doing differently to reverse the institutionalised failure of many great British innovations being exploited outside the UK. Commenting afterwards, Gerry stated, "The TSB is an agent for change who, working in concert with the UK RTO community, act as a strategically positioned intermediary between academia and business. Together the TSB and RTO community would be ideally placed to support innovation and help business and entrepreneurs 'stay the distance' to commercially exploit their knowhow. Now that would have been an after dinner speech to listen to."

BHR Group is an active supporter of AIRTO and an independent industrial research and technology organisation specialising for over 65 years in applying our expertise to industrial processes in the chemicals, food and drink, pharmaceutical, mining & minerals, water & wastewater, aerospace, energy and manufacturing industries.