Hazardous Area Certified Refrigerant Leak Detector
New Infra-red Refrigerant Leak Detector, ATEX certified for use in hazardous areas from TQ Environmental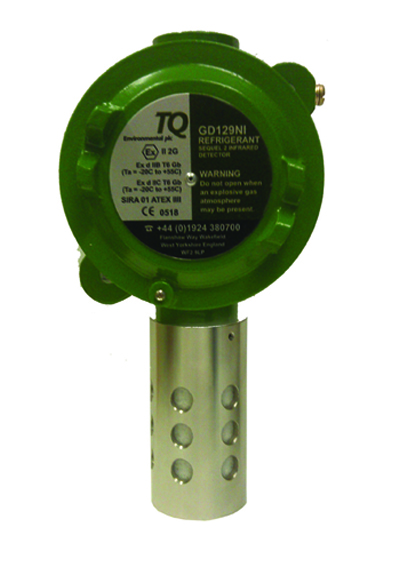 Infra-red Refrigerant Leak DetectorFollowing several request from our customers looking to monitor for refrigerant leaks in chemical / refining and offshore applications. All of which required hazardous areas certification. We decided to extend out range of robust GD129 infra-red gas detectors to include Refrigerant Gases with the GD129REF. This detector can be specifically calibrated for individual refrigerants in the ever growing list of refrigerant gases.

ATEX certified to Exd IIC T6 (Ta= -20 to +55oC). The detector can be used in Zones 1 or 2 hazardous areas, as a diffusion sensor designed to be positioned at the point of monitoring, where potential leaks will occur. Onboard automatic zero and span functions also allow the sensor to be calibrated in the field if required, once initiated.

Standard 3 wire connections, 24v DC powered and 4-20 mA output signal for connection to a TQ control panel or suitable 3rd party control system. With a nominal range of 0-2000 ppm this sensor can be used to fulfil F-Gas regulations in Hazardous areas. This sensor is finding many applications, monitoring in harsh environments not just zoned hazardous areas.