Gardening With Draper Is A Total Tool Solution
Draper Tools has launched its 2013 Gardening Tools Catalogue comprising around 650 tools and products for general gardening and landscaping, including outdoor leisure products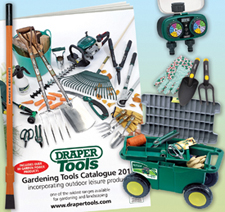 The 80 page brochure details one of the biggest garden tool ranges available from one supplier and is packed full of essential items for the gardening enthusiast.

These include NEW electronic water timers, hose reel hangers plus an expanded range of cost conscious guaranteed quality DIY Series garden tools. The Company also offers a range of 'proper' Young Gardener tools manufactured from gun metal finish carbon steel with antique finish ash handles.

FREE copies of the booklet are available in quantity to assist you in selling on Draper garden tool products to your customers.