Denso Products Chosen For New Scrabster Harbour Quay
R J McLeod have completed a £16.93M contract to replace the existing quay at Scrabster Harbour to provide a multi-function quay to serve oil and gas, renewables and fishing industries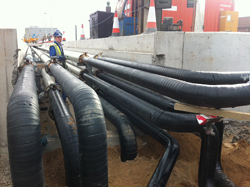 Fuel lines protected with Densoclad 50Several types of Winn & Coales Denso protective tapes were used in the total project.

The works included demolition of existing quay, sea based dredging and installation of steel piled quay faces, pontoons and hard standings. The services provided on the new quay include fuel import/export lines, drainage, lighting, CCTV and communication lines.

As part of the contract JGC Engineering of Thurso supplied some 4km of pipe for the import/export lines, including those leading to and from storage tanks. Twelve pipelines are grouped together in a buried duct leading to the import/export take-off area. All pipes in this section were protected with Denso Primer D, followed by Desoclad 50 Tape prior to being buried. JCG used a Winn & Coales Denso tape wrapping machine for its application.

Densoclad 50 is a medium duty tape, designed to protect small and medium diameter pipes, welded joints, bends and fittings. The tough yet conformable pvc backing provides excellent resistance to damage during handling and backfilling. It is suitable for hand or machine application.

The scheme also involved the use of tie bars for the steel piled quay faces, which were supplied by Macalloy Bar and Cable Systems. For this application Macalloy wrapped the tie bars with Denso Tape and Denso SA pvc prior to installation on site.