Ideal Entry Level Data Logger For Hydraulic Service Engineer
Webtec Products Ltd, of St Ives, Cambridgeshire has released the brand new HPM4000 series hydraulic data logger, the latest addition to their popular HPM range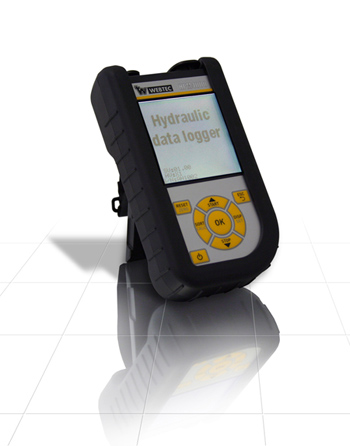 Webtec Hydraulic Data LoggerTargeted at users who carry out hydraulic pre-dispatch inspection, preventative maintenance and simple diagnostic fault-finding the HPM4000 series is a very cost-effective solution. It is ideal for measuring, displaying and recording a number of hydraulic parameters so the data can be easily transferred to a computer for further analysis using the seventh generation HPMComm Windows software, supplied free-of-charge.

The HPM4000 series data loggers enable a hydraulic service engineer to measure flow, pressure and temperature, capture peak values, display power and differential pressure as well as log the readings at the touch of a button. The data logger has a backlit four-line 3.5" display and Nano-USB stick as standard and still fits in the palm of your hand, weighing just 540g.

The HPM4000 series is the newest addition to the HPM series of Webtec portable hydraulic data loggers, and replaces all models of the HPM420. There are two models available in the HPM4000 series, the HPM4020 which accepts two Sensor Recognition (SR) sensors and the HPM4030 which is IP67 rated and designed to take three Intelligent Digital (ID) sensors. Both units work with existing Webtec SR and ID sensors and cables respectively.

Webtec is also releasing two new ranges of pressure transducer, the PTN series, are rated between -1 and 1000 bar and are available in either SR or ID versions. They are both smaller and more cost-effective than the existing PTT series of dual pressure/temperature sensors.

Overall the HPM4000 and PTN series of pressure transducers offer a very cost-effective hydraulic test solution, and an excellent entry-level kit for new users or a perfect upgrade opportunity for existing HPM420 users.