Landia Gasmix Works Wonders For Wiesen
A dairy farmer in northern German who is producing over 250kWh of biogas is on course to achieve his five year payback target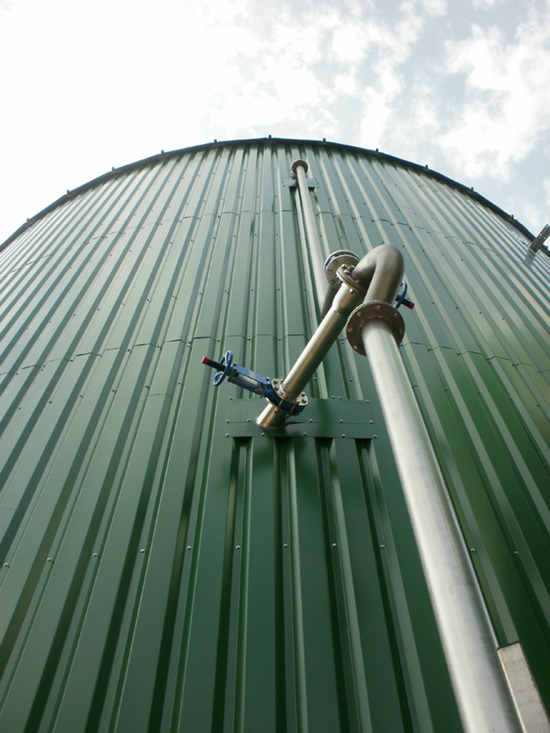 After investing in an externally mounted mixing system that reduces feedstock into smaller particles than standard equipment.

Bernd Wiesen, who has 110 cows at his farm in Bremerworde, uses a feedstock comprising 25 per cent dry manure with straw, 25 per cent grass silage and 50 per cent maize - but unlike most biogas plants that have the blend mixed first before pumping it in, Landia's GasMix system gives him the benefit of being able to mix it inside. And for maintenance, everything can be conveniently accessed on the outside, so there are no health and safety issues regarding anyone having to get into the tank – and no interruptions to the important gas making process.

"With GasMix, everything is so much easier for me," said Bernd. "I only have to spend about an hour per day operating the plant – and with my computer I can see immediately how everything is working and how much power is being generated. It also helps very much that the Landia equipment is extremely reliable".

From his 250kWh of biogas, Bernd earns €0.22/kWh (around 18p) for each kW of energy he generates. This is made up of €0.11kWh (9p) for the feed-in tariff, plus a further €0.07kWh (6p) for utilising the energy on his farm and supplying it (plus digestate for use as fertilizer) to his neighbour. He also receives €0.04kWh (3p) for using manure and maize that is from his own 170 hectare farm.

To move the feedstock, which includes 12 tonnes of maize and 6 tonnes of manure per day, the pump only has to run for five minutes per hour. Drawing sludge from the digester and then pumping it through the aspirating venturi chamber, biogas is aspirated from the top of the digester, mixed with the sludge and then injected into the tank. As well as its improved process and energy efficiencies, the high velocity and vacuum created by Landia's GasMix's also achieves a 3D mixing pattern that eliminates the formation of unwanted surface scum.

Now accounting for more than 60 per cent of his annual income, this is all a far cry from when Bernd Wiesen installed his first biogas plant back in 1995. "We knew we had to create our own electricity because oil prices kept on rising, but when we started, things didn't smell very good at all!" said Bernd. "But now my neighbours have said how very much better it is these days, which is all because of Landia's GasMix.

He added: "I think I will always keep fine tuning the feedstock a little to try to get the best possible gas yields, but I am on course for a payback of no more than around five years from when we first built the new plant".