First Grey Water System Installed In Jordan
The 440 bedroom 5 star Intercontinental Hotel in Amman Jordan is designed in three sections and two of these, containing 310 bedrooms were connected during phase 1 of a water recycling programme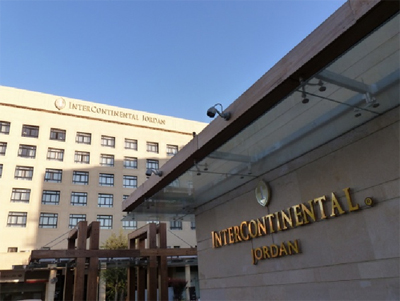 Intercontinental Hotel Amman JordanThe plant consists of a 21,000 litre pre-tank and a 21,000 litre post tank. At the heart of the system is an Aquaco Multi-Media filter rated at 9 cubic meters per hour with automatic back-wash based on a timer. The Aquaco Master Control Unit controls the flows throughout the system. The equipment is mounted on a skid 1200mm X 1200mmX 2000mm high. This small footprint is due to the very high efficiency of the Aquaco filtration system.

The customer ordered an additional carbon filter capable of processing 18 cubic metres per hour. This is not essential as the Aquaco Multi-Media filter will do all that is required, but the Intercontinental required the very best possible solution. Aquaco does recommend a carbon filter if the grey water is to be used for laundry and by connecting to the laundry, the carbon filter will be paid for in a very short time.

Filtered and sterilised water is pumped into the hotel water system using a booster pump set.

Says hotel manager Mr Ana Al-Emleh "After the first two weeks of settling in, it has not been possible to tell that the water is recycled and is not fresh water."

The consultant engineers specified both chlorine dosing and ultra-violet sterilisation as a 'belt and braces' approach, mainly due to the warm weather in the Middle East. This is an approach which many other customers in the Middle East have taken.

Mr Mohammad Baidas, Technical Manager of Modern Contractors Ltd who installed the system says: "It was the first grey water system to be installed in Jordan and therefore a very exciting project. We chose Aquaco from three possible suppliers after discussions with the consulting engineers and the investors. The Aquaco system produces very high quality water, higher than the standards which we have here in Jordan."

When showing the system to Aquaco Chairman Graham Webster, Mr Baidas added that he particularly liked the straight forward design of the Aquaco Master Control Unit.

"This means that if a part fails we can replace it here in Jordan not have to go back to the UK for it", he said. "I would say that, if the water is used correctly, the payback should be about 5-7 years", said Mr Baidas.

After the successful run in period of 18 months, Mr Baidas says that he plans to connect the remainder of the hotel and the laundry, to obtain an even greater return for his customer.

Says a delighted Mr Baidas "We have crystal clear water which was more than the client expected. He was so happy when we operated the system. From the first time we operated the system no-one knew there was a grey water system."