Make Pothole Repair Material Under License
Instarmac Group plc are offering you the chance to establish a profitable, sustainable and successful business by producing a world leading pothole repair product in your own territory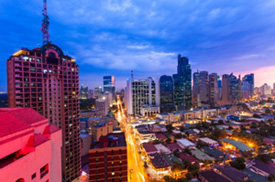 Ultracrete Instant Road Repair At Work In PhilippinesFast changing weather patterns, heavy rains, monsoon flooding and the constant pounding from heavy traffic are all causes of serious damage to any road surface. As a result, road surfaces are in constant need of repair and this is a major challenge for infrastructure worldwide.

A proven product developed over 35 years ago, Ultracrete Instant Road Repair® is the number one solution for instant permanent repairs for potholes and damaged asphalt. It requires no heating and is applied straight from the tub. It is suitable for use in all climates – even in extreme conditions such as after flooding. Pothole repair material like this is always needed, no matter the time of year, or climate.

Ultracrete Instant Road Repair® requires minimal preparation and there is no need for mixing, priming or sealing.

It can be compacted and trafficked immediately, allowing traffic management to be kept to a minimum, easing congestion and journey times. It is the perfect solution for repairs on expressways, bridges, tunnels and heavily congested city centres.

Its proven durability and versatility means it is also suitable for use in railway stations, footpaths, driveways, car parks, docks, public utilities, hotels and hospitals – it doesn't matter where the pothole is, Ultracrete Instant Road Repair® will repair it!

Ultracrete Instant Road Repair® is available for you to manufacture under license.

Instarmac Group plc is the UK company who are behind its enormous success. With licensees worldwide already manufacturing this technology, this is an unmissable opportunity to build a profitable business.

"Becoming an Instarmac licensee allows you to manufacture a truly innovative product in your own territory."

Contact Instarmac for an initial consultation and they will assess the suitability of local aggregates to ensure you can effectively develop your own road repair products.

After signing an agreement Instarmac will guide you through every step of the manufacturing process with their technical and production experts on hand to discuss the process of designing and building your own production plant.

From the drawing board to reality, Instarmac have low cost production options for your initial manufacturing process, and high end facilities for future growth. Instarmac will help you build the right production facility for your business needs.

Their Secret Formula, the key ingredient for your pothole repair material, will be delivered by container, as easy to handle bulk supply, allowing you to store your own materials.

Instarmac are actively seeking Global Business Partners to manufacture Ultracrete Instant Road Repair® worldwide. For further information please contact the Instarmac Group - contact details are below.