Delta Fire Mobile Foam Station Success
The success of Delta's DF130 within the UK Petrochemical Industry was not entirely unexpected due to the unique suitability of design that this mobile foam unit offers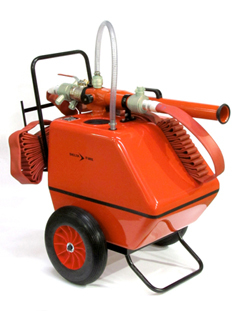 Delta Fire DF130This UK manufactured product has now found favour in a multitude of Industries with a number of prestigious clients around the World thanks to its 'fast response' capabilities, compact size and highly portable 'one-man' operation.
Delta Fire is in the final stages of an expansion programme which will see increased manufacturing capabilities within their entire range of Portable and Fixed Foam Fire Fighting Equipment.

Delta Fire's DF 130 is a High Capacity Mobile Foam Station designed for major fire risks such as the protection of Oil Storage & Loading Terminals, Paints & Solvents Stores, Boiler/Engine Rooms etc.

The DF 130 is ergonomically designed for rapid one-man deployment and boasts long running times utilising all types of Foam Concentrate within its 130 litre GRP tank.

Using a 3% Foam Concentrate combined with a pressurised water supply the DF 130 will run in excess of 20 minutes providing a foam output of over 34,000 litres of finished low expansion foam.

The chassis is manufactured from Corrosion Resistant Plastic Coated Steel on 400mm diameter Solid Rubber Tyres and the body is finished in International Orange.

The DF 130 is M.E.D. (Ship's Wheel) Approved for Marine Use and Lloyds Certified.

The standard version comes complete with the Delta HV225 Low Expansion Foam Branchpipe , the Delta Z225 Variable In-Line Foam Inductor (c/w On/Off ball valve) and 2 x 15 metre lengths of Nova Type 3 Layflat Fire Hose.
This Foam Station can, however, be specified with any of the range of Delta Low and Medium Expansion Branchpipes and are available with all types of International Fittings.

These widely acclaimed Mobile Foam Fire Fighting Units are unsurpassed in Durability, Portability and Performance.