Pipebridges Protected With Denso Steelcoat System
Winn & Coales (Denso) Ltd's Denso Steelcoat system is currently being used to protect four pipebridges for the UK's Environment Agency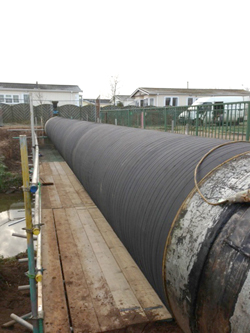 The function of the pipebridges is to take away drainage water. There are two at Torksey, near Lincoln, which discharge drainage water into the nearby River Trent. The contract also includes pipebridges at Shortferry and Foldingworth.

The Denso Steelcoat system was chosen to give the long-term protection required for the pipebridges. The surfaces are first manually prepared by wire brushing / scraping to ST2, removing all rust and loose coating material, which consists of a previous bitumen coating on two of the bridges. Denso profiling mastic is then used to provide an even surface and provide a smooth contour over flanges etc. The Denso Steelcoat system then applied consists of : Hi-Tack Primer, Denso Hi-Tack Tape, Ultraseal Tape, followed by a final two coats of a moisture cured polyurethane topcoat.

The contractors, Repair Protection & Maintenance Ltd, have undertaken this contract as a turnkey project by looking after the refurbishment of the air valves, replacing a pipe coupling and organised the access scaffolding.