Reception At Buckingham Palace For Renishaw 15th Queens Award
Renishaw, the global metrology specialist, was honoured in April 2012 with the Queen's Award for Enterprise, awarded for the SP80 ultra-high accuracy analogue scanning probe in the Innovation category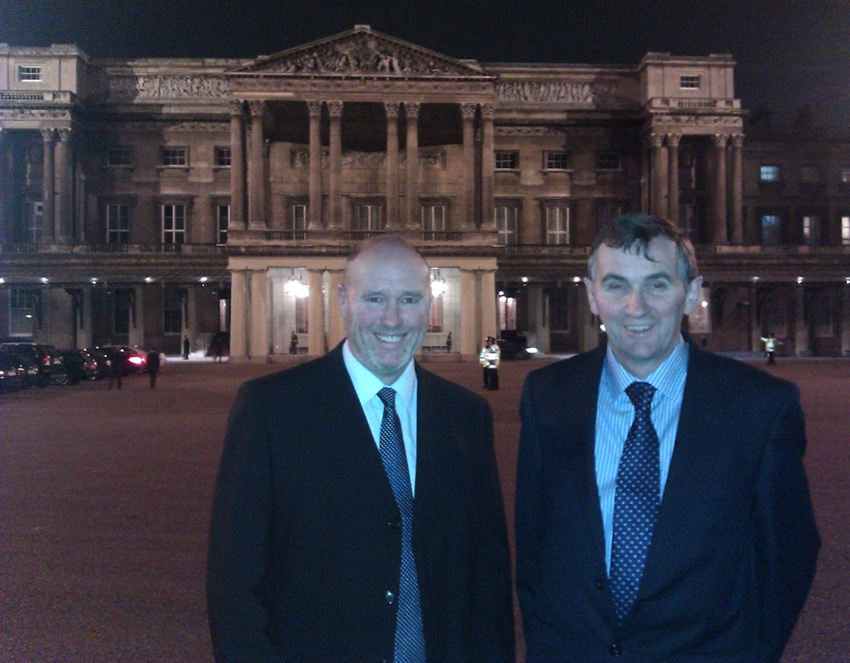 Pete Hajdukiewicz and Andy ButterOn 13th November, employees Pete Hajdukiewicz and Andy Butter, who worked on the design of the probe, represented the company at an awards evening reception at Buckingham Palace, in the presence of Her Majesty the Queen and the Duke of Edinburgh.

The SP80 is used on Coordinate Measuring Machines (CMMs) for the highly accurate measurement of complex parts such as automotive and power train components. It is designed for the highly accurate measurement of parts with deep features and can therefore carry very long styli, up to 800 mm long, with no significant degradation in measuring performance.

Mr Butter commented: "There were many people in the room, and opportunities to speak to the Queen were limited but Pete and I were fortunate enough to be in her path and shared a few words. I answered the Queen's questions regarding where we were from and what we did, before Pete brought a smile and thank you by congratulating Her Majesty on her Golden Jubilee. The Duke of Edinburgh was also very interested to hear about Renishaw and our place in the world of manufacturing. It was a truly memorable evening."

The Queen's Awards for Enterprise are made each year by Her Majesty the Queen, on the advice of the British Prime Minister, who is assisted by an Advisory Committee that includes representatives of Government, industry and commerce, and the trade unions. The Awards are given solely on merit and competition is fierce. The number of Awards presented each year is not pre-set and depends on the quality of the applications received.