Meat Processor Scandia Food Enhances Efficiency With ACI Blower-Powered Can Drier
"We needed a better drying system because one of the most important elements during the labelling process is the dryness of the can. With the ACI drying system we forgot about this problem,"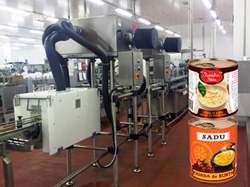 Scandia Foods Romania Using ACI Can DriersDaniel Mitrofan, Manager Tehnic for Scandia Food was speaking about the successful installation of Air Control Industries Can Drying Tunnel at the company's meat products plant in Judet Sibiu, Romania.

Scandia Food is the leading canned-meat products company in Romania with (50% of the market) offering liver pate, stews, meat sauces and traditional Romanian dishes under the brand names of Scandia Sibiu, Bucegi and Sadu.

The ACI can tunnel is a retro-fit installation on a canning line with a throughput of up to 12000 cans/hr. Cans on the line have diameters of 73mm, 83mm and 99mm and heights from 48mm up to 110mm and the ACI systems can cope with the all the different sizes with equal efficiency.