Public Conveniences In Jondal Norway Win Architectural Award Thanks To Cempoint
Jondal, a municipality located in Hordaland, Norway, have recently built extra facilities for visitors of the beautiful mountainous countryside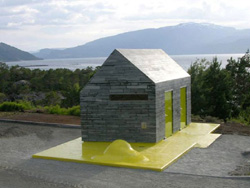 Public Conveniences Win Architectural Award The building was constructed from large paving stones and was jointed with Ultrascape's Cempoint. Betomur AS, Instarmac's Norwegian distributor for their Ultrascape mortar paving system, supplied the contractor with this proven gun injected mortar.

After the building work had been completed, the facilities were nominated for an architectural award. They were nominated alongside other Norwegian landmarks, such as the Grieghallen theatre, and after careful consideration from the judging panel, the public conveniences in Jondal won the award.

Cempoint is a gun injected mortar that provides a quick and clean method of jointing both horizontal and vertical surfaces. The mortar is supplied as a pre-blended product, requiring only the addition of water on site; reducing the potential for colour variance and workmanship issues during installation.

The mortar is fast and easy to apply, with no wastage, and is perfect for those smaller areas which can be difficult to grout. It is suitable for joint widths of 5-50mm and joint depths of up to 100mm and once applied, can be opened to foot traffic after 12 hours and vehicular traffic after 24 hours.

Cempoint, and the full mortar paving range, is available for you to manufacture under license. Instarmac Group plc is the UK company behind its enormous success. With licensees worldwide already manufacturing this technology, this is an unmissable opportunity to build a profitable business.

Becoming an Instarmac licensee allows you to manufacture proven, tested and truly innovative products. Each licensee benefits from a protected territory and receives technical, commercial and marketing support to help promote their latest business venture.

Contact Instarmac for an initial consultation and they will assess the suitability of local raw materials to ensure you can effectively develop your own mortar paving products, as well as road repair materials.

After signing an agreement Instarmac will guide you through every step of the manufacturing process. Their technical and production experts will discuss the process of designing and building your own production plant.

From the drawing board to reality, Instarmac have low-cost production options for your initial manufacturing process, and high-end facilities for future growth. Instarmac will help you build the right production facility for your business needs.

Instarmac are actively seeking Global Business Partners to manufacture their innovative mortar paving system and world renowned Ultracrete Instant Road Repair® worldwide.