Shrieve Participation At Chillventa 2012 Technical Forums
Shrieve Products International exhibited and presented at Chillventa 2012, the International Trade Fair for Air Conditioning, Ventilation and Heat Pumps, held in Nuremberg during October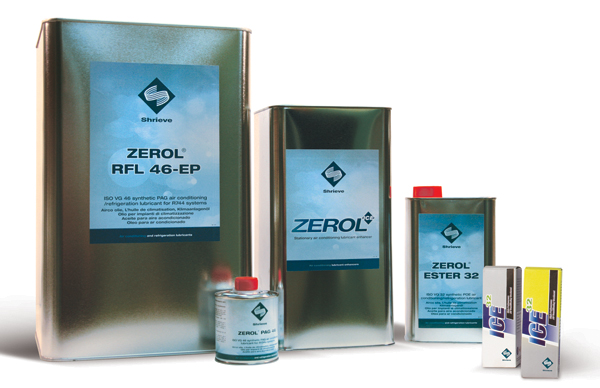 ZEROL® ICE and ZEROL® ICE LTShrieve Products International Limited is a limited company and a subsidiary of Shrieve Chemical Company, headquarted in Houston, Texas. The Shrieve Group, with main offices in the United States of America, United Kingdom and China markets ZEROL® lubrication technology around the world for stationary and mobile refrigeration and air conditioning systems.

Within the Chillventa Technical Forums, Shrieve presented two papers for participants involved in compressors utilizing R744 (CO2) refrigerant, together with an update on the benefits of using system performance enhancers in low temperature systems.

Our first lecture, "Comparative Review of the Chemistry and Performance of Novel Synthetic Lubricants with CO2 Refrigerant" by Elizabeth Dixon, Ph.D., Global Technology Director, Shrieve Chemical Products, Inc., provided technical evidence of the benefits of asymmetric double end-capped polyalkylene glycol (PAG) lubricants over alternative lubricant types.

Examples of wear data within CO2 compressors were shown, comparing the performance of different lubricant chemistries. Field experience demonstrated that regimes employing asymmetric double end-capped PAG lubricants exhibited lowest wear rates as a result of the wear properties and refrigerant solubility properties of PAG lubricants.

Our ZEROL® RFL-EP asymmetric double end-capped PAG grades have been formulated for R744 systems and are available in a variety of viscosity grades to meet industry requirements.

The forum was also presented with "The Success of Lubricant Enhancers in energy and maintenance costs savings: an update with low temperature operation", by Manuel Muñoz, Industrial Chemist who has gained extensive experience within the HVACR market.

Data provided demonstrates that the addition of system performance enhancers reduces compressor wear and improves the heat transfer coefficient in heat exchangers, thus obtaining a reduction in energy consumption and extends compressor durability. This data was generated from four different systems; three from low temperature units (in Spain), the other from a chiller in Mexico. The performance benefits showed generated interest and discussion amongst the audience.

ZEROL® ICE and ZEROL® ICE LT are proprietary system performance enhancers, which have been successfully introduced into a wide range of existing stationary air conditioning and refrigeration systems as part of their lubrication regime.

For more information on our ZEROL® lubrication technology, please contact using details below.