Wide Range Of Metrology And Manufacturing Systems At EUROMOLD 2012
Renishaw, one of the world's leading engineering technologies companies, will be exhibiting its range of additive manufacturing, metrology and dental products at EUROMOLD 2012 from 27 – 30 November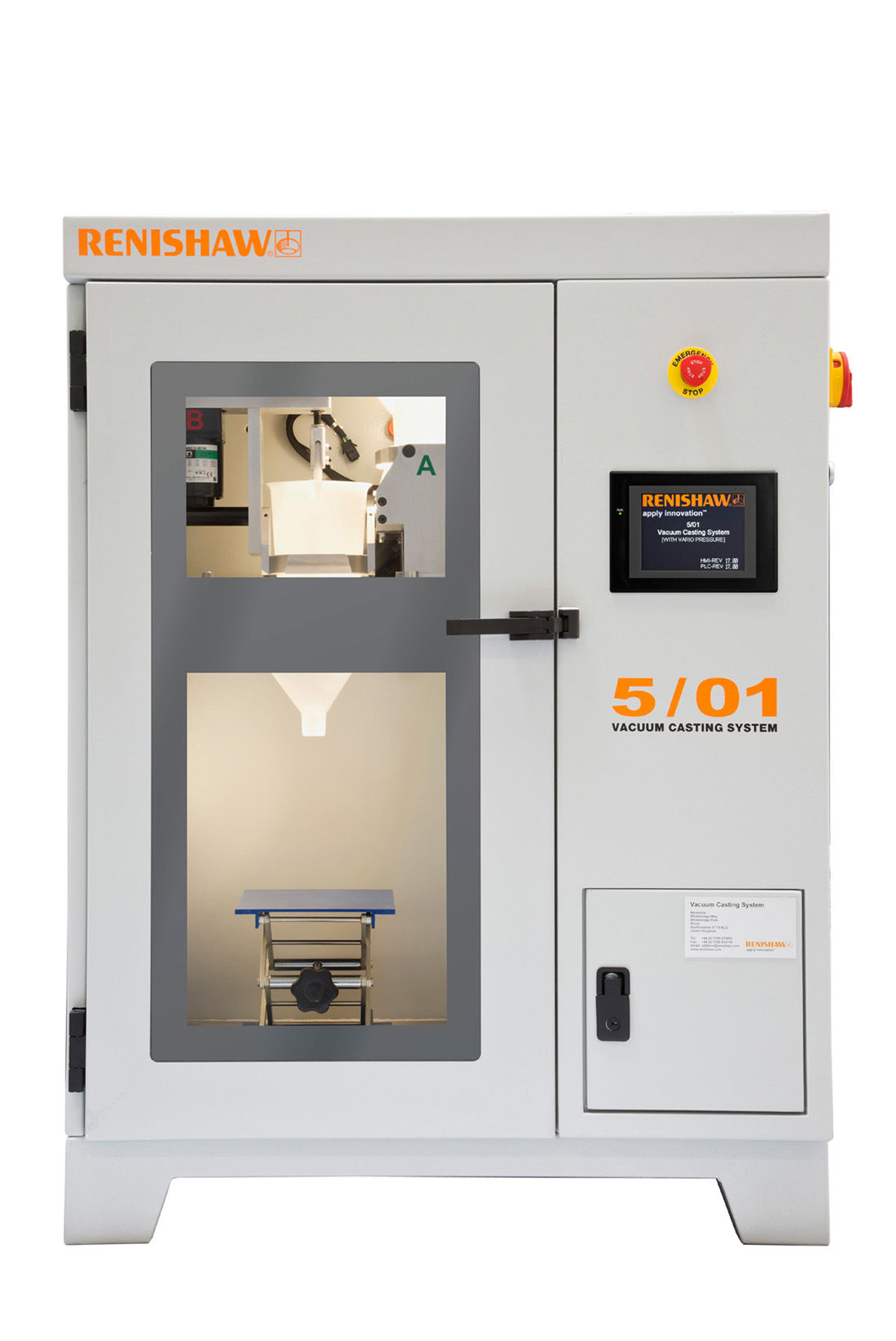 Renishaw 5/01 Vacuum Casting MachineIn hall 11.0, stand E130, visitors to EUROMOLD will be able to see Renishaw's laser melting technology, which is capable of producing fully dense, complex parts from a range of metal powders, including tool steel, aluminium, titanium and inconel. The additive manufacturing technology involves fusing the metal powder in layer thicknesses ranging from 20 to 100 microns using a high powered yterrbium fibre laser. The process is digitally driven, direct from 3D CAD data.
Renishaw's vacuum casting machines will also be on show at EUROMOLD 2012.

Vacuum casting enables the manufacture of individual prototypes or low-volume production parts in a range of polyurethane (PU) resins and cast nylon. Components are gas and water tight, suitable for crash testing, and are chemically resistant.

The Renishaw Equator™ is a lightweight, fast and highly repeatable gauge that operators can use with 'push-button' simplicity. Equator's innovative flexible gauging technology is based on the comparison of production parts to a reference master part, which can greatly increase throughput and reduce scrap rates at a fraction of the cost of an equivalent custom gauging system. Equator can switch between parts in seconds, perfect for flexible manufacturing processes or accepting parts from multiple machines.

Renishaw's machine tool calibration products will also be exhibited, including the XR20-W and XL80. The new XR20-W rotary axis calibration system works with the market leading XL-80 laser interferometer system to allow the measurement of rotary axis positional accuracy to within 1 arc second. Totally wireless operation and modular mounting systems ensure suitability for a wide range of machines.

Renishaw's dental milling and scanning systems will also be demonstrated at EUROMOLD 2012. The dental milling machine enables single copings or complex bridge frameworks to be manufactured from data obtained directly from the Renishaw dental scanner. Visitors to EUROMOLD 2012 will see that Renishaw's sophisticated dental CAD software analyses this data and automatically determines a best-fit margin line and other parameters. The 3D computer model can then be fine-tuned by the technician if required before sending the data directly to the dental milling system, which machines the pre-sintered zirconia.