Meeting The Test Challenges Of PCB's With The Pinpoint Alpha
The constant evolution of electronics technology has meant the functionality of a single IC (Integrated Circuit) has increased while at the same time the physical size of PCB's has become smaller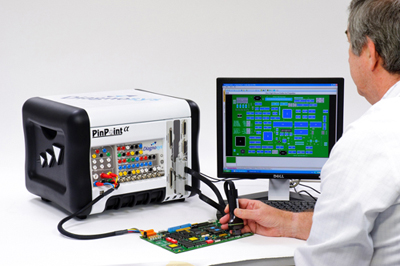 Diagnosys Systems Pinpoint AlphaThis means that PCBs are becoming more complex to test and even more difficult to diagnose the cause of a failure.

No single test technique can provide the level of test and fault finding necessary to provide long term and through-life support of a PCB. Instead, multiple techniques are required which can be applied as necessary and integrated into a single test program flow.

Designed with over 40 years of test and fault finding experience, the PinPoint Alpha is a modular multi-strategy test system which has excellent fault finding capability. This level of adaptability and capability makes the PinPoint Alpha ideal for many varied applications while it also provides an affordable solution with a seamless progression path to the rest of the PinPoint range.

All of this functionality is provided through the easy-to-use and robust TestVue™ software which is employed throughout the PinPoint range of products and has a proven track-record with major organisations world-wide. The configurability and adaptability of the system makes it ideal for many applications including:

Functional test of circuits and modules
With a choice of optional integrated instruments, the PinPoint Alpha provides a compact and affordable functional test system in a desk-top format. A choice of digital test cards can be installed in the external slots to add functional edge connector and in-circuit test capability. Optional analog switching cards provide software programmable switching of signals to and from the unit being tested.

Fixtureless test of circuits to diagnose faults
There is often a need to diagnose the cause of a failure in a circuit either in a repair environment or to understand an issue in a manufacturing process. Using test clips, or the robust Device Test Interfaces, test signals can be applied directly to an IC while it is in the circuit. In this way a full functional test of each device can be performed whether it is digital, analog or mixed signal. Added to this is the ability to check the continuity of tracks between devices, check impedance signatures on each network and perform boundary scan testing.

Schematic generation
With organisational change, company merger, general skill fade or lack of documentation there is often a challenge to support legacy or 3rd party circuits. The PinPoint Alpha has the ability to reverse engineer the Schematic diagram from a physical board. Having a Netlist and Schematic diagram allows a repeatable and reliable test program to be produced so that legacy and third party electronics can be effectively supported extending their useful life.

Detecting Counterfeit Devices
The detection of Counterfeit devices is becoming a major issue in the electronics industry fuelled by diminishing availability and obsolescence of components. By using out-of-circuit test adaptors the PinPoint Alpha offers an affordable way to functionally test devices using dynamic electric tests and is able to detect issues other methods cannot.

Datalogging and test records
Powered by TestVue software, the PinPoint Alpha has flexible test datalogging capabilities to record test data such as detailed failure information, serial numbers, operator details, etc. This information can then be used to automatically show the history of a particular board prior to testing, or it can be exported for trend analysis.

Providing an affordable entry point for flexible and adaptable test capability, the PinPoint Alpha is designed to grow with your requirements. This maximises the use of your budget today and protects your investment in years to come.