London Taxis To Represent Antennentechnik At Euro Fair
Antennentechnik Bad Blankenburg GmbH will be exhibiting and promoting their innovative range of combination antennas at the European Taxi Fair in Cologne on 9th and 10th November 2012 ...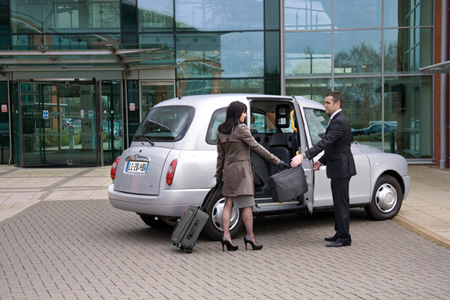 European Taxi Fair in Cologne... and have specifically requested a London Taxi to represent and demonstrate them on.

AntennenSystem UK Ltd was formed in 2011 to be the UK business partner and distributor for Antennentechnik ABB Bad Blankenburg GmbH, to service the growing UK automotive digital radio market, as well as to promote ABB's innovative range of combination antennas aimed at the emergency services and mobile radio markets.

In addition to antennas for many other applications, ABB are at the forefront of DAB antenna innovation.

The London Taxi Company have been fitting antennas made by Antennentechnik to London Taxis supplied to the UK market for 6 years and can highly recommend their products.

Nigel Moore, Business Development Manager for Antennentechnik and Director of AntennenSystem UK Ltd, said 'any vehicle can promote our products on an exhibition stand but not any vehicle can attract the footfall like a London Taxi. The iconic London Taxi is the most recognised taxi in the world and I am sure it will get every visitor of the show on our stand. Once they are on our stand we can talk antennas!

Maria Holmes-Keeling, International Marketing Manager for The London Taxi Company received the request from Nigel and said 'we are more than happy to represent Antennentechnik at the Cologne Trade Fair. It will be a privilege to send a London Taxi to exhibit amongst all the other cream coloured saloon vehicles. I'm sure our platinum silver TX4 will do just the job for Nigel and his team'.

International Sales Manager for The London Taxi Company, Ross MacKerron will be attending the European Taxi Fair on both days should anyone have any queries about the London Taxi or London Taxi Service. Please contact him on rmackerron@london-taxis.co.uk or telephone +44 7944 730 104 if you would like to make an advance appointment.