BHR Group Ramps Up CFD Processing Power
BHR Group, global consultants in innovative fluid engineering, has successfully completed a major investment programme to improve the processing power for its Modelling and Simulation team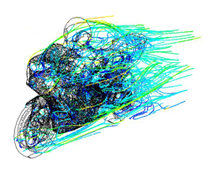 Facility upgrades in both hardware and software have significantly ramped up BHR Group's computing resources. BHR Group can now undertake computational flow dynamics (CFD) and finite element analysis (FEA) simulations with computational meshes featuring many millions of cells (typically 8-10 million). For smaller meshes we can run 5 or 6 simulations in parallel.

This improved CFD and FEA capability means BHR Group can offer its clients much higher fidelity modelling, with improved quality of results, at an order of magnitude greater speed, and, finally, much more reliably than before.

Speaking yesterday, Dr. Kelsall, Modelling and Simulation team leader, said, "With this new virtual system, we are no longer restricted to individual high spec PCs, but can offer multi-core, multi-process functionality with all the inherent benefits of scope, speed and accuracy expected by our clients. The team has a much richer computing environment which will allow us to contemplate and bid for more challenging projects. "

The improved capabilities come from a fully secure, virtual system, which uses a dedicated server and spare capacity on the company network, plus occasional use of UK-based Cloud Computing Services such as enCORE and epcc. UK-based Cloud Services offer the necessary speed, security and integrity that BHR Group customers require.