Divine Flooring Solution For Wetherby Methodist Church
Wetherby Methodist Church has recently completed a major refurbishment to its entrance area, main congregation area and staircases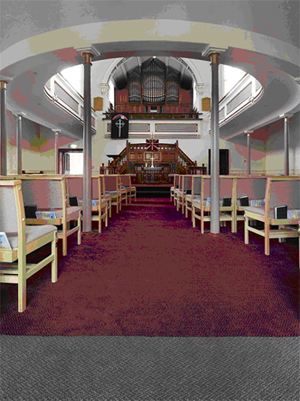 Wetherby Methodist ChurchLocated in the centre of Wetherby town, the church is used by the local community for church services, activities and functions.

To complement the elegant and modern design of the interior, a fresh and contemporary environment for visitors was created using barrier matting and carpet, supplied by Contract Interior Solutions provider, Gradus.

The main congregation area of the church was refurbished with Genus carpet in Ancient Ruby (red). In the reception area, Genus carpet in Black Forest (grey) was installed to create a clean and welcoming environment.

To help to remove tracked in dirt and moisture, Boulevard 6000 secondary barrier matting in Shadow (grey) was installed in the entrance area. The performance benefits of Boulevard 6000 secondary barrier matting help to prolong the lifecycle of the surrounding carpet and help maintain the aesthetics of the building.

Rev. Steve Barlow, Minister at Wetherby Methodist Church, said: "We're really pleased with Genus in the main congregation area of the church. Not only is it in keeping with the church's décor, it is also hardwearing and easy to clean and maintain.

"In addition, we wanted to specify products which help to create a welcoming and comfortable environment for our visitors. Genus carpet provides excellent acoustic properties which help to provide a quiet and peaceful environment."

Jill Harrington, International Communications, said: "Our Genus carpet range is suitable for a variety of commercial installations and is available in cut pile construction in tile, broadloom and impervious formats, in a wide choice of colours. It was the ideal choice for Wetherby Methodist Church, as not only is it extremely easy to clean and maintain, but the chosen colours complement the interior of the church perfectly."

Genus carpet is produced with Marquesa yarn, which is inherently resistant to staining and fading and does not require any harmful topical treatments. The unique cleaning benefits of Marquesa help to reduce maintenance costs and improve the lifecycle performance of the carpet. The extended lifecycle performance helps prevent early disposal, reducing unnecessary waste sent to landfill, which as a result, benefits the environment and provides a more sustainable lifecycle plan.

Genus carpet and Boulevard 6000 secondary barrier matting have been awarded the highest green guide 'A+' rating under the BRE's certified environmental profile scheme.

Gradus is a major supplier to the healthcare, education, leisure, cinema, hotel and retail markets of contract interior products such as Stair Edgings, Floor Trims and Flooring Accessories, Carpets, Wall Protection, Barrier Matting systems and Step & Aisle Lighting.