Flagship School Gets Delivery Of Style And Class
As part of the UK government's Building Schools for the Future programme, the new Walkden High School has had a complete overhaul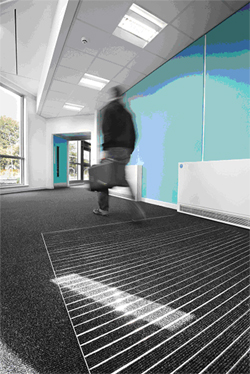 Situated in Salford, Manchester, Walkden High School was rebuilt as a multi-million pound Specialist Language College in September 2011 to provide state-of-the-art learning spaces and top-of-the-range sports' facilities. The new school benefits 1,500 pupils as well as members of the local community.

Helping to create a safe, fresh and vibrant learning environment for both pupils and staff, the interiors have been fitted out with stylish high-quality products - slip-resistant stair edgings, barrier matting and carpets – manufactured by Contract Interior Solutions provider, Gradus.

To reduce slip and trip accidents caused by wet flooring, the main entrance and all side entrances were fitted with a co-ordinated primary barrier matting system of "Esplanade 1500" and a walk-off area in secondary barrier matting of "Boulevard 1500", both in the colour "Tempestas", a stylish black.

To ensure effective removal of heavy soiling and moisture ingress and in order to protect and prolong the lifecycle of the surrounding floor covering, primary matting "Esplanade Plus" was chosen for the entrance from the playing fields. Selected with Nightfall (black) wipers from the Boulevard 6000 range, the heavy-uty scraper ensures optimum dirt removal whilst the decorative design disguises the effects of soiling.

Complementary to the school's interior and to help to create a contemporary environment for both staff and pupils, Gradus carpet "Stratus" in Flint (grey) was installed in all of the school's classrooms. Combining durability, functionality and design, the carpet forms a clean, neutral canvas for the bright accent colours of the furniture and fittings.

To ensure the safety of all users circulating between floors, all staircases were fitted with aluminium stair edgings "ADM1" with slip-resistant inserts in "Jet" (black). The stair edgings help to reduce the risk of slips on stairs and to define the step edge by providing a suitable colour contrast with the floor covering. In line with current safety and DDA standards, the ADM1 profile measures 55mm on both the tread and riser to meet the guidelines set in The Building Regulations 2000 – Approved Document M and BS8300:2009+A1:2010.

Jill Harrington, International Communications for Gradus, said: "The combination of Gradus' stair edgings, barrier matting and carpet tiles provides the Facility Managers at Walkden High School with peace of mind that the building is accessible, easy to maintain, and is a safe and comfortable environment for all pupils and staff."

Gradus is a major supplier to the healthcare, education, leisure, cinema, hotel and retail markets of contract interior products such as Stair Edgings, Floor Trims and Flooring Accessories, Carpets, Wall Protection, Barrier Matting systems and Step & Aisle Lighting.