Running The Risk Of Incomplete Decontamination
In order to handle the complexities of chemical spill contamination on an operative's clothing there is an argument that suggests that just 15 minutes of dowsing time may sometimes not be long enough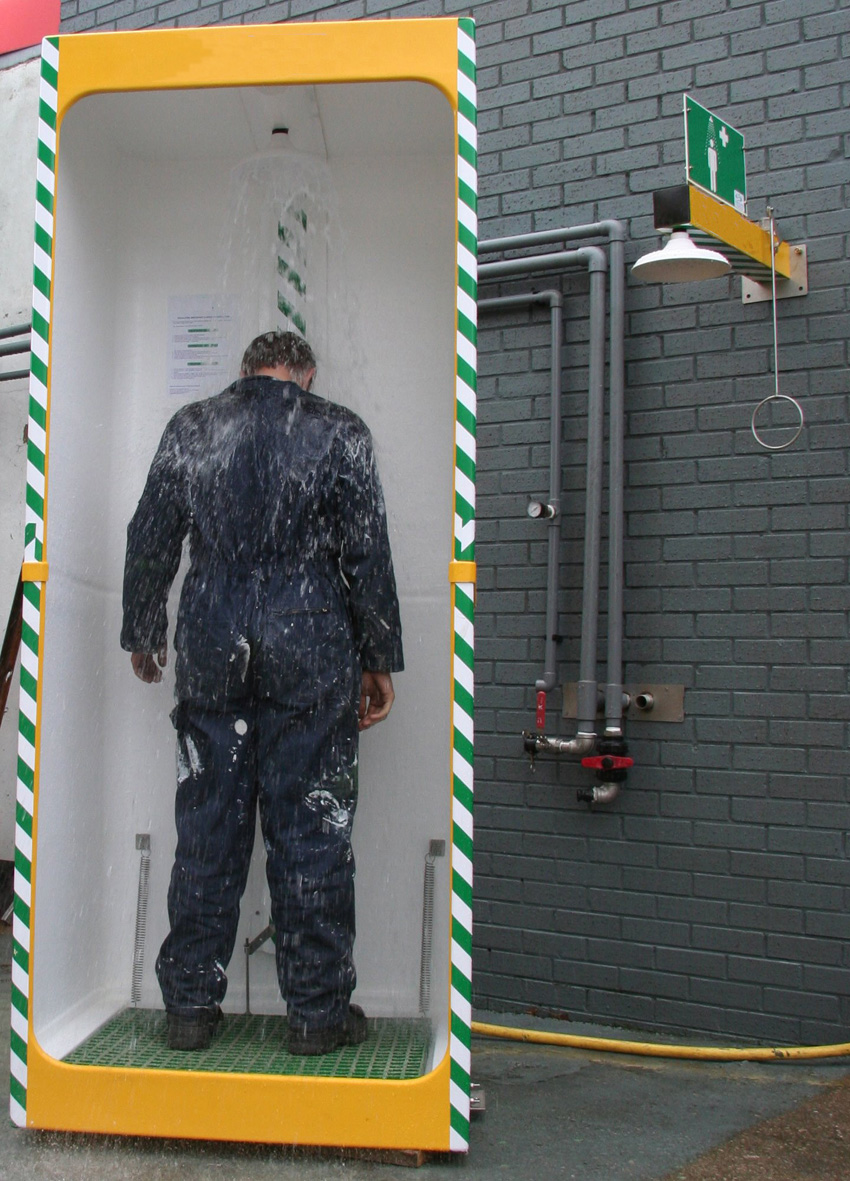 Complete Decontamination From Showers & Eyebath ServicesThe new ANSI Z358.1 standard states that delivered flushing water should provide 15 minutes of tepid water. Tepid water not only reduces the growth of harmful bacteria in the water tank but importantly the use of cold water has the effect of closing the pores, which can trap any contaminant so hampering attempts to wash it off. Freezing water can also exacerbate the problem as there is the potential of the user going into thermal shock.

This led to demands being made by the petrochemical industry for emergency decontamination units to provide water at the correct temperature with manufacturers of emergency showers, such as Showers & Eyebaths Services, going one step further to guarantee up to 20 minutes of tepid water, notwithstanding the extreme climatic conditions in which safety showers are sited.

Janet Dickinson, operations manager at Showers & Eyebaths Services said: "Normally a 15 minute time period would be a suitable length to wash most contamination off clothing. However, when the tepid water turns to freezing operatives can be tempted to step out of the shower, believing their clothing to be free of the hazardous substance.

"Unfortunately chemicals can react when it comes into contact with water, such as caustic soda which turns to a slimy consistency and can be difficult to wash off. This can result in contaminants remaining on clothing even after a 15 minute dowse; which is why it is imperative for an operative to strip off all clothing for full dousing to be effective.

"When it comes to the provision of an emergency shower facility it is vital to assess risk on an individual basis. This can include a risk assessment not only against the control of substances hazardous to health (COSHH) but also against climatic conditions, the surrounding environment and the workforce including lone workers and the mix of male/female operatives for example.

"We do advise that for any organisation looking to upgrade or fit new emergency shower facilities a comprehensive risk assessment needs to be carried out. Important areas that need to be considered include:

• Don't settle for products just because of price. Ensure the quality and performance of the unit is suitable for your needs and the needs of your personnel.

• Check that the water supply pipework is capable of delivering 75 lpm.

• On self contained units, check that the correct temperature is being maintained, this being under 25°C and above 15.5°C. If the temperature is too hot it can increase the harmful effects of chemicals on the skin. Too cold and it can cause hypothermia plus the correct drenching time may be insufficient as the user will not want to stay under cold water for the recommended 15 minutes let alone more than 20 minutes should the COSHH assessment deem this necessary.

• Check on the disposal of the contaminated water. Not only does it need to be disposed of carefully, any pool of water collected on the floor can be a hazard in itself, creating a slippery or icy surface.

• It is imperative that contaminated clothing should not be left on during contamination but should be stripped off when in the shower. Proper training should therefore be given on how to use the emergency facilities.

• Check on the size of the employees and check the area that you want to designate for a shower unit and ascertain whether it will provide a suitably sized emergency facility. With average body mass increasing there needs to be adequate room to accommodate the necessary movement when using the shower.

Struggling to quickly strip off contaminated clothing in a restricted area is very difficult, uncomfortable and can exacerbate the problem, especially as part of the space is taken up with an eyebath facility. The recommended ANSI standard of a 34 inches (86.4 cm) cubicle diameter is adequate but not ideal and by increasing the size of a decontamination unit it will provide better protection.

• Check the siting of the pipe work feeding the shower. With the changing climate, exposed pipe work that would have normally survived an average winter is no longer adequate and will not meet the recommended standards. This will mean either re-siting the shower unit or lagging the pipework.