Manchester University Team Wins It Flies UK Competition
A brilliant team of three second year students from The University of Manchester won IT FLIES 2012, run by Merlin Flight Simulation Group, and held at Coventry University, UK on 12 June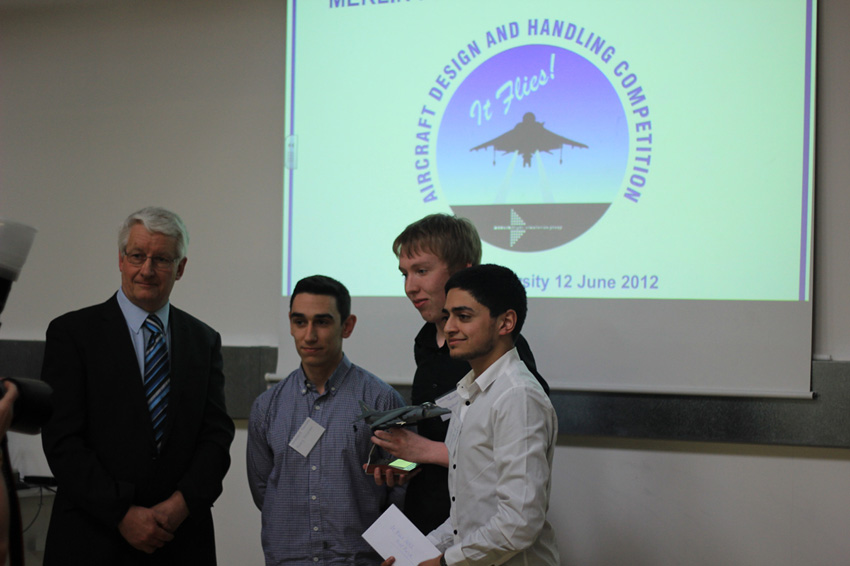 Chris Neal, MD of Merlin with Manchester TeamTheir super design of a very lightweight training aircraft was flown and assessed by Graham Archer, Cobham plc's Chief Test Pilot in Coventry's MP521 Engineering Flight Simulator.

Graham commented 'I enjoyed flying the Manchester trainer aircraft and thought it accurately replicated how I would expect an aircraft of this class to fly. The aircraft showed conventional stability around all 3 axes and controllability was adequate for the tasks attempted. The performance of the aircraft also appeared to be close to other trainer aircraft which showed that both thrust and drag has been accurately modeled. Overall, a very convincing simulation.'

IT FLIES this year had eight entries and a wide variety of student aircraft designs, ranging from a Bugatti and a Blackbird from Coventry University, to an Airship from Swansea. There was also a team from The University of Dayton accompanied by Dr. Aaron Altman.

IT FLIES USA will be held in April 2013 at The University of Dayton, Ohio.