Wood Effect SeaShield Protects Dubai Jetty Piles
A jetty pile protection system was recently required with a finish to match the surrounding existing timber piles in a high profile restaurant location at Dubai Yacht Club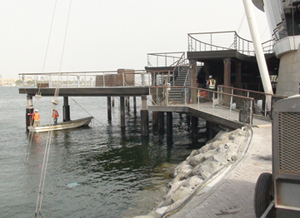 SeaShield Series 400 SystemThe customer chose Winn & Coales' new SeaShield Series 400 system which has wood grain effect jackets that can be customised to match most wood colours.

There are believed to be more wooden piles around the world than any other type.
Winn & Coales (Denso) Ltd are currently leading the field in the development of wood effect jetty pile protection and their new system can be supplied world-wide via Winn & Coales International Ltd through its many subsidiary companies and stockists. Denso SeaShield systems have now been protecting marine structures around the world for over 40 years.

The SeaShield Series 400 system outer jackets used in Dubai are actually grp forms that are positioned around the pile on spacers leaving an annulus which is then filled with grout. The jackets remain in position permanently to give extra protection against mechanical damage and once the grout has set the whole system forms a strengthened, protective shield around the pile. The SeaShield system was applied to a total of 52 timber piles in this project.