Driving Innovation Through Industry
BHR Group is proud to represent UK Ltd showcasing British expertise and technology across the globe and contributing to the Government manufacturing and advanced engineering-led strategy for UK growth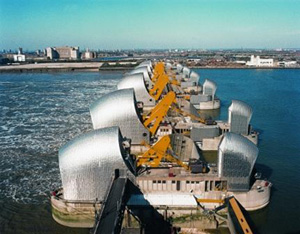 The Hauser Report, published in 2010, identified a gap that according to Hauser must be filled if the UK is serious about creating and maintaining a 'knowledge-based economy'.

For the past 65 years the focus of BHR Group has been the provision of a 'translational infrastructure' to industry, delivering a business-focussed capability bridging academic research and technology commercialisation.
Essentially BHR Group aids clients in solving their fluid engineering problems, improving processes, saving money and adding value.

However, the bridging we speak of is not a new concept. Back in the late 1940s, the UK recognised the need for and created an outstanding industrial applied research capability. This was accomplished via the Research Associations, of which BHRA (The British Hydromechanics Research Association) was one of several. This strategy permitted industry to influence the collaborative government funded aspect of R&D towards commercialisation, whilst enabling the RAs to build an industry-focussed, multidisciplinary skills base and retain skilled staff at all levels. This structure also allowed engineers to act as a conduit to influence university research and led to the generation of British Standards on behalf of UK industry.

The driver for the RAs was the recognition that Industry (in particular SMEs) has an innovation/development horizon ranging from instant consultancy/testing to around 3 years. Now, as then, the weakness of the current system is that it focuses on technology push and not industry pull.

As an independent industrial research and technology organisation specialising in the application of fluid engineering to industrial products and processes, BHR Group continues to provide a translational infrastructure platform to the aerospace and defence, nuclear and renewables sectors (amongst others).

Working in partnership with over 30 key global giants such as ExxonMobil, Sumitomo Heavy Industries, GlaxoSmithKline and PepsiCo, BHR Group has earned a global reputation for its industrial funded research consortia and niche consultancy with an export income totalling 70% of turnover.

BHR Group's flagship consortium, Fluid Mixing Processes (FMP), is an industrially driven mixing research and design programme that has been running continuously since 1983. It is owned and managed by BHR Group and funded and steered by its industrial Members, which include fine and bulk chemical, pharmaceutical, oil and gas, food and beverage, personal and household care and mixing equipment manufacturing companies in the UK, Europe, India, Japan, the Middle East and the USA.

Two other consortia programmes serving the water and nanotechnology industries respectively are also currently on-going.

Alongside the multi-nationals, BHR Group works closely with entrepreneurial SMEs, helping them to realise the commercialisation of appropriate new ideas and technologies.

BHR Group is currently working with VerdErg Ltd. on a renewables project part-funded by the Technology Strategy Board. The project aim is to have auditable, certified confirmation that will see the Spectral Marine Energy Converter (SMEC) BHR Group-proven performance replicated in real World operation. This will formally bring SMEC into commercial operation, directly addressing Investor and Site Developer Due-Diligence requirements.

Recent developments within BHR Group have resulted in an internal reorganisation and the emergence of a new more client focussed structure. Building on its decades of world leading expertise, intellectual property and independence, BHR Group has evolved from being specialists in fluid engineering to global experts in innovative engineering research and development. The range of services on offer to its client base encompasses not only traditional product and service development, but also internal cross-fertilisation of novel ideas and concepts between applications and sectors.

The company is actively recruiting, indicative of a full order book and positive, professional outlook for the next decade.